There Were More Reported Military Sexual Assaults in 2013, But There's a Silver Lining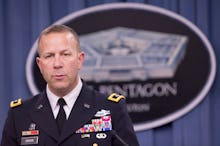 The good news: When the Pentagon released its annual report on military sexual assault Thursday, the numbers did not look good: 5,061 claims were reported in 2013, representing a 50% increase from the year before.
But for many, the increased reporting of sexual assault is actually a positive sign. Since last year, the Pentagon has been stepping up efforts to encourage victims to come forward. And though the high incidence of assault is definitely still troubling, the vast increase in self-reported cases means that more people are standing up for themselves — and trying to hold the perpetrators of these crimes responsible.
"There is no indication that this increase in reporting constitutes an increase in crime," said U.S. Army Maj. Gen. Jeffrey Snow, the head of the Pentagon's sexual assault prevention programs. "We assess that this unprecedented increase is consistent with a growing confidence in the response systems."
And things are looking up on the prosecution side as well. According to defense officials, they were able to take "some action" against 73% of accused personnel, as opposed to 66% from the year before.
Image Credit: The Washington Post
The bad news: But if that "some action" sounds too vague, it's because it is. Of the 5,601 sexual assault cases that were reported last year, just 484 went to trial and only 376 actually resulted in a conviction. That statistic should "should send chills down people's spines," said Sen. Kirsten Gillibrand (D-N.Y.), who earlier this year tried to take prosecution of sexual crimes out of the military chain of command.
And while the increase in self-reporting is an encouraging sign, it's still nowhere near where it should be: An estimated 26,000 of the 1.4 million active-duty service members are assaulted every year. "Since today's report does not include a total estimated number of crimes committed, it is impossible to draw any conclusions regarding the number of increased reports," Gillibrand said.
One particular group is seriously underreporting sexual assault: male victims. Defense Secretary Chuck Hagel said half of all military assault victims are estimated to be men, but they made up only 14% of self-reported cases last year. An anonymous 2012 survey found that 6.8% of female and 1.2% of male service members reported being assaulted, but since there are way more men in the military, that number actually comes out to 12,000 women and 14,000 men.
"We have to fight the cultural stigmas that discourage reporting and be clear that sexual assault does not occur because a victim is weak, but rather because an offender disregards our values and the law," said Hagel. "Input from male victims will be critical."
Some more good news: If anything, the Pentagon is aware of how big the military's sexual assault problem is, and how quickly the public's patience is running out. As for removing prosecution of sexual assault from the military chain of command, even Gen. Martin E. Dempsey, the chairman of the Joint Chiefs of Staff, signaled his willingness: "If it occurs that, after a period of very intense and renewed emphasis on this, that we can't solve it, I'm not going to fight it being taken away from us," he said last month.
Given that perpetrators of these crimes are usually senior in rank (and sometimes actually in charge of handling sexual assault cases), that might be the best course for all.