A New Study Reveals What Might Be the Biggest Problem in the U.S. Education System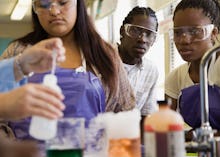 The news: Every year U.S. schools grow more diverse. According to the latest studies by the Center for American Progress (CAP) and the National Education Association (NEA), nearly half of all students who attend public school right now are from minority backgrounds. Yet both organizations note a critical "diversity gap" in our nation's education system — not among students, but among teachers.
Among the 3.3 million teachers who work in American public schools, only 18% identified as minorities: 8% as Hispanic, 7% as black and about 2% as Asian. In comparison, 48% of public school students are nonwhite: 23% are Hispanic, 16% are black and 5% are Asian.
"If you spend time in almost any major school district in America today, you will notice that the students often do not look much like the teachers. In fact, in some areas, the students don't look anything like their teachers," reads the CAP report. "There is a significant demographic gap in the largely white teaching profession and an increasingly diverse student population."
And the problem is only getting worse. The demographic divide between teachers and students has been growing for the last few years, and the diversity gap persists in nearly every single state. The index below shows the difference between the percentage of nonwhite students and the percentage of nonwhite teachers in each state:
Image Credit: Center for American Progress
What this means: Studying teacher diversity is important because it is symptomatic of other, deeper problems in America's education system. White students still graduate high school and enroll at college at much higher rates than minority students, and receive higher standardized scores as well. Asian students are the only exception.
The CAP report also points to "a scarcity of high-quality teacher training programs targeted at teachers of color, the educational debt students of color must shoulder and the general lack of esteem in our society for teaching."
Image Credit: Center for American Progress
Why this is important: The effect that a diverse teaching corps has on students cannot be overstated. Studies indicate that having teachers from minority racial and ethnic backgrounds helps to close the achievement gap between white and nonwhite students; those who had a teacher they could identify with and consider as a role model were more likely to do well at school.
It's incredibly powerful for students "when they can look and see someone who looks just like them, that they can relate to," said Kevin Gilbert, an NEA executive member. "Nothing can help motivate our students more than to see success standing right in front of them."