The Simple Trick Sony Is Using to Make 'The Amazing Spider-Man 2' a Billion-Dollar Movie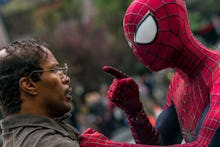 The Amazing Spider-Man 2 broke an Indian movie record this past weekend, having the highest-grossing opening weekend ever for Hollywood in India. 
Winning over the international market is crucial to a big box-office win — according to the Motion Picture Association of America, roughly 70% of American movie studios' annual revenue comes from international markets — and with India a key player in the international box-office Rubicon, some crafty Bollywood-style techniques were employed to help Spider-Man climb to the top.
"We have taken a mass marketing approach to this film with some unique and very local innovations," Sony Pictures India managing director Kercy Daruwala told the Hollywood Reporter.
One of those local innovations was the release of a Hindi music video by the Indian band Sanam with some citing their Spider-Man-geared song, "Main Hoon," as one of the reasons why the film opened so big. 
Having a music video in Hindi is a genius move for any Hollywood film entering the Bollywood market; framing a Hollywood release through the Bollywood lens undoubtedly gives it the local marketing push it needs.
While many American movies, including Spider-Man 2, come bundled with music videos and theme songs of their own, the music-movie tie-in is not as steeped in tradition in the U.S. as it is in India. 
Bollywood movies by in large come with a song and dance element built in, with even the biggest action films getting some musical moments. 
Obviously it was more than a Hindi-language video that made Spider-Man an Indian success. The film comes with the tremendous pull of the franchise, and Sony Pictures India pulled out all the bells and whistles, bringing the film to 1,532 screens across the country (the most for a Hollywood movie ever) and releasing it in four languages simultaneously (English, Hindi, Tamil and Telugu). 
Having spent $400 million on the marketing and and production of Spider-Man 2, Sony needs the film to be a success, hopefully to the tune of $1 billion. So far the movie has made $92 million domestically and $116 on international markets, with big numbers coming from both China and India. So while these mega-blockbusters may be hyper-global, it is through local marketing initiatives — like Hindi music videos — that your average blockbuster can climb into record-breaking territory.