Over Two Million Brazilians Fought Back Against Their Government's Assault on Gay Rights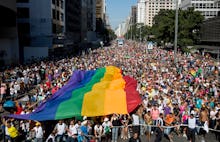 For 13 years, São Paulo's pride parade has taken on serious issues in colorful style, calling for equal rights for all Brazilian citizens, secular governance and an end to homophobia.
São Paulo's gay pride has held the record for largest parade since 2006, and this year was no different. Hundred of thousands marched in the streets Sunday, and event organizers claim there were more than 2.5 million people in attendance.
Though the march is a sight to behold, what's more attention-grabbing is the problem LGBT Brazilians and their allies are rallying against. The theme of this year's march: criminalizing acts of homo-, lesbo- and trans-phobia.
Image Credit: AP.
More than 300 gay, lesbian and trans persons were killed in crimes last year according to Grupo Gay da Bahia, Brazil's oldest and largest gay rights group.
The total declined since 2012, but still marks a worrisome trend. In 2011, the group estimated that there was a gay hate crime every 36 hours in Brazil.
Earlier this year, 16-year-old Kaique Augusto Batista dos Santos disappeared after a leaving a nightclub in São Paulo's heralded gay scene. His body was found a few days later disfigured with severe head wounds, his teeth pulled out and a spike driven through his leg. Police initially ruled the death a suicide.
Other reports from this year include a trans woman who was shot at close range, a man who was stabbed in his home, and a man who was tied, potentially tortured and then murdered after being picked up for a date.
Activists say that the way crimes are reported and the fact that victims' sexuality is not noted in the police record make the crimes difficult to track or to label as hate-driven.
Though same-sex marriage was legalized nationwide in Brazil in 2013, the LGBT community is still canvassing to ensure their basic rights and safety, and many claim that conservative politicians and religious leaders have sought to roll back their rights.
"Brazil's evangelical leaders are employing strategies used by the US right-wing evangelical lobby to fuel anti-gay hate and prevent any legislation against hate-crimes, with the silent support of our government," Luiz Henrique Coletto, vice president of the Secular Humanist League of Brazil (LiHS), told LGBTQ Nation in January.
Image Credit: AP
Some of Sunday's marchers turned out directly from mass, demonstrating that their religious beliefs and desire to end discrimination are more than compatible.
Image Credit: Getty Images. A protester holds a sign that says, "I am gay, I am of God, I am human and have rights!"
But they may have an uphill battle. Last year, Brazilian lawmakers killed a draft bill that would have criminalized discrimination and acts of violence committed based on someone's sexual orientation.