This Is What The Syrian Government Thinks a 'Leading Tourist Attraction' Looks Like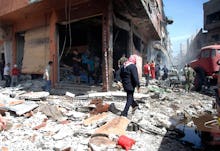 Clearly there's not a hint of irony here: As blood-soaked Homs remains in shambles following the withdrawal of rebel forces under devastating siege, the Syrian government is proclaiming that the city is very excited to be preparing for a "prosperous tourist season."
What the what? According to Syrian Minister of Tourism Bisher Yazigi, whose job can't have gotten any easier as roughly 80,000 to 130,000 people were killed in Syria in the past three years, "miscellaneous activities are planned in the two sites [Wadi al-Nadara area and Krak des Chevaliers Citadel] during summertime." The regime-owned Syrian Arab News Agency reports that the "minister promised there will be a tourist program coupled with a horde of facilitations for tourist projects and new investors in the area," and claimed Wadi al-Nadara would be the "leading tourist attraction for expatriates."
Yeah, it's pretty bad. Since the beginning of the government blockade in June 2012, fighting in Homs has been bitter and bloody, taking a horrific toll on both rebel fighters and local civilians. According to Free Syrian Army spokesman Suhaib Ali, the rebels are withdrawing because "we must put ourselves in the place of the people who lived in the siege and saw their children die from hunger, they saw their brothers die because of infected wounds due to shelling."
"Public support has become loyal only to the regime after the displacement of many large neighborhoods to outside Syria or to other provinces," a local activist, Orhan, told Syria Direct, which notes that Homs had little love for the rebels, especially after the siege began. 
Despite starvation, mass death, the destruction of large sections of the city and the very real possibility of unexploded ordnance littering the area, Homs is undoubtedly bound for a glorious tourist season ... right?
Words alone can't do justice to the devastation in Homs. Here's just a glimpse of what the city looks like these days as it ramps up for the big "tourist season."
Image Credit (all): AP