Harvard Scientists May Have Just Solved One of the Biggest Environmental Issues of Our Time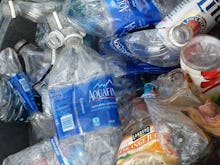 For years, researchers have been attempting to find a viable, biodegradable alternative to plastic.
Plastic is all around us, in the containers we store our food and in the bottles we drink our beverages from. Our groceries and shopping purchases are all brought home in plastic bags, which have earned the distinction of being "the most ubiquitous consumer item in the world," according to the Guinness World Records.
That's all great, except for the fact that plastic is not a biodegradable product. It takes years for plastic to turn into smaller pieces, but it never breaks down into simple compounds that can be harmlessly reabsorbed by the environment. Instead, it becomes a dangerous pollutant, clogging up waterways, damaging the marine ecosystem and entering the food chain.
But it seems we're closer to the solution than we might think. On Monday, researchers at Harvard University's Wyss Institute announced they have created a new bioplastic based off a novel source: shrimp shells.
Image Credit: Harvard University Wyss Institute
How it works: The main component is chitosan, a form of chitin, the second most abundant organic compound in the world. It is found in everything from crustacean shells to insect cuticles and butterfly wings.
Usually, shrimp shells would be discarded or used in fertilizers or makeup. But the Harvard researchers have been able to process these shrimp shells to create a material that is strong, transparent and renewable. They've named it "shrilk."
"There is an urgent need in many industries for sustainable materials that can be mass produced," said Wyss director Donald E. Ingber. "Our scalable manufacturing method shows that chitosan, which is readily available and inexpensive, can serve as a viable bioplastic that could potentially be used instead of conventional plastics for numerous industrial applications."
The best part is that not only does shrilk biodegrade in a matter of weeks once it's discarded, it actually releases nutrients into the environment as it breaks down. Researchers have been able to grow a plant in soil that is enriched with chitosan, demonstrating how man-made garbage can actually contribute to the environment.
Image Credit: Wikimedia
Why this is important: Plastic garbage has been a problem for decades, and it's only getting worse. Over the past decade, we have produced more plastic than in the entirety of the 20th century, and half was for single-use products such as soda cups, straws and plastic bags. We use 500 billion plastic bags alone every year.
All that junk is not going anywhere anytime soon. Most plastic trash ends up in the oceans and accumulates in gyres, which are massive whirlpools created by the current. These giant, rotating heaps of garbage cover as much as 40% of the Earth's ocean surface; the biggest one, the infamous Great Pacific Garbage Patch, is located off the coast of California and is twice the size of Texas. Researchers predict that these gyres are only going to get bigger in coming years:
Creating plastic is not very efficient, either. Almost 3% of America's total petroleum consumption is due to plastic production, as well as around 2% of total U.S. natural gas consumption. And though we have all been told to do our part and "reuse, reduce and recycle," the latter doesn't really apply to plastic; due to the way they are processed, we can only recover 5% of the plastics we produce.
Given all these difficulties, a new material like shrilk could be a true game-changer, not only in the conservation movement, but in global consumer behavior. It will be many years before something like shrilk can be mass-produced and introduced to average consumers. But given that in our lifetime, we'll never be able clean up all the plastic trash we've already produced, it's certainly the right step to find a suitable alternative — especially if it can return nutritious byproducts to the environment.