New York's IFC Center Is Finally Recognizing One of Film's Most Underappreciated Genres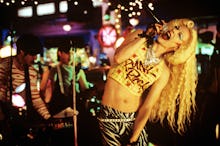 Before RuPaul's Drag Race, films like The Queen gave many queer people their first glimpse into drag life. Released in 1968, the legendary film follows New York's drag superstars as they compete for the pageant queen title at the 1967 NYC drag contest. To watch the film is to unearth a secret history of New York queer identity, one that many people in our generation haven't been exposed to.
Unearthing this secret history and bringing it to a younger generation of viewers is the goal of New York's IFC Center "Summer of Drag" series that begins this week. The festival, curated by filmmakers Ira Sachs and Adam Baran, will screen the four most important New York drag-related films, as chosen by some of the city's most iconic drag performers: Lypsinka, Barbara Herr, the BUSHWIG queens and Mr. Murray Hill. Their choices represent a pantheon of powerful LGBT film, highlighting the crucial importance of drag culture on New York's queer history, in cinema and beyond.
Outrageous! — chosen by legendary lip-synch artist Lypsinka — is the first film spotlighted. The 1977 Richard Brenner cult classic tells the story of Canadian drag performer Craig Russell, who became notorious for impersonations of Hollywood legends like Judy Garland, Bette Davis and Mae West, before going on to battle HIV/AIDS. As Lypsinka puts it, it is the "best feature film about drag performance and what it means to have chosen such a weighted and fraught profession. It also portrays fairly realistically what gay urban life in the 1970s was about." 
Image Credit: Richard Brenner's Outrageous!
Outrageous! will be followed by Barbara Herr's choice of Suddenly Last Summer, the 1959 Tennessee Williams adaptation starring Montgomery Clift and Elizabeth Taylor. Herr chose the film for its depiction of violence against homosexuals.
Image Credit: Suddenly Last Summer
The organizers behind New York's BUSHWIG festival chose Hedwig and the Angry Inch to sceen because, as they put it, "It deals not only with performative gender expressions but also the idea of multiple gnders in one being. It was the first film to bring these ideas to a mainstream audience."  
Image Credit: Hedwig and the Angry Inch
The final film, chosen by Murray Hill, will be The Queen, the documentary about early drag culture.
Image Credit: The Queen
Given how iconic the curators are, it's clear that these films are cruical viewing, if not the most important drag films ever made. 
One of the festival's curators, Ira Sachs (also the director behind such acclaimed works as Forty Shades of Blue and the upcoming Love is Strange), spoke to PolicyMic about the festival. "For me, that concept of permission is at the heart of the series as a whole. I have films that I've seen in my life that have become part of my very personal history." 
For his co-curator Adam Baran, who writes the popular web series Hunting Season, the films bridge the inter-generational divide in the queer community, connecting younger viewers and artists to a wider queer movement both in film and in real life.
"As someone of a younger generation, that's something I felt like I was missing all through my twenties," Baran said. "When you would come to New York City, older queer people, more experienced queer people, would guide you, saying that you need to see this movie or need to read this book. This is about filling that gap."
For Baran, mentorship is of particular relevance today because of the struggles queer filmmakers face in getting films to the public.
Image Credit: Outrageous!
"One of the things about the series is its relationship to New York in the '70s and '80s," Sachs said. "This was a time fertile for creativity, despite having no broad or comfortable economic support. That created an urgency. These artists took the right to do things because they had things to say and the passion to say it."
In bringing these queer films to light, their legacy lives on — and our generation gets a necessary education. 
For more information on the complete series and screenings, visit Queer/Art/Film at www.queerartfilm.com.
All images courtesy of IFC.