This Is What It Looks Like When 1,600 Papier-Mache Pandas Take Over Major Cities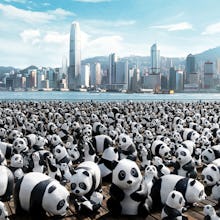 Sixteen hundred papier-mache pandas will soon take over Hong Kong.
While that many papier-mache pandas may sound like a lot, when you consider that there are approximately 1,596 alive in the wild, that number focuses into much sharper relief. The pandas are part of the "1,600 Pandas" world tour put together by French artist Paulo Grangeon in an effort to bring attention to the panda's plight. 
Image Credit: Facebook
Grangeon launched the project six years ago and has taken his pandas to 20 global destinations so far, including Taipei, Paris and Rome. 
The upcoming Hong Kong visit will begin in June and include major tourist destinations like Hong Kong International Airport, the famous Tian Tan Buddha on Lantau Island and Victoria Park.
Image Credit: Facebook
The purpose of the panda project is to raise awareness about animal conservation, especially since the pandas are largely disappearing because of us. The panda tour coming to Asia is especially relevant, as China is their native home. Most of the panda loss is because of human beings, with roads and railroads in China dividing forests and making mating difficult. While their are some pandas in captivity, it is notoriously difficult to get them to mate. 
Image Credit: Facebook 
While in Hong Kong the pandas will undoubtedly be a cultural sensation, it's not entirely clear what the plan of action from Grangeon's project is, other than awareness. Still, just bringing the 1,600 figure into the conversation is intensely alarming and very powerful. Hopefully these papier-mache counterparts can help to save the real thing. 
Image Credit: Facebook