What Pop Culture Gets Wrong About Israel's Female Soldiers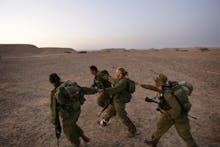 There's a scene in Friends where Chandler Bing has a coffee date at the gang's usual hangout, "Central Perk," with a beautiful former Israeli Defense Force (IDF) soldier. Chandler sits enamored as she recounts dodging bullets until the early hours of the morning.
The trouble is that this particular episode aired in the late '90s, when women in the Israeli army were barred from enlisting in combat units. In fact, she would not have been able to take on a true combat role until 2004, when Israel formed the Caracal Battalion created for that purpose.
The presence of female IDF soldiers on the front lines is a familiar trope for American audiences. Most recently, Israeli actress Daniella Kertesz played Segen, an IDF soldier chosen to be Brad Pitt's bodyguard in the zombie movie World War Z.
For female soldiers in the IDF today, these cinematic examples of female heroism are not that unlikely. Twenty years ago, most female soldiers worked in human resources and education. Today, about half the IDF's lieutenants are women, according to the New York Times. The IDF has made a concerted effort to market these women as the face of the Israeli military. In 2001, the army created a women's affairs advisor who reports to the chief of staff. Her role is to "empower women."
In January, IDF Maj. Oshrat Bachar made history when she was appointed as the Israeli military's first combat battalion commanderof the female-led Caracal.
The Caracal, which is tasked with guarding Israel's borders with Jordan and Egypt is 60% female. However, more elite units like paratroopers and the Golani and Nahal units, only allow male fighters. The IDF argues this is because of the physically draining demands these roles require.
Image Credit: AP.
While the Israeli army has made an effort to make all departments more evenly split between genders, most women aren't in combat roles. While more than 92% of IDF jobs are open to women, just 3% of women serve in combat roles. This could be because combat soldiers are required to serve for three years rather than the two years required of non-combat roles.
Most women opt for secretarial positions: shredding paper, stuffing envelopes and answering phones. In short: the reality of women's work in the IDF is a stark contrast to their life as imagined by many people in the western mind. In fact, women in the Israeli army face the same, daunting glass ceiling as their counterparts in the U.S.
This highly unpublicized side of the IDF was the basis for Israeli director Talia Lavie's new film, Zero Motivation, a low-budget dramedy about the postponed dreams of young women in the IDF.
Image Credit: Tribeca Film Festival.
Instead of having a host of gun-swinging battle scenes, the film revolves around two women, bitter Zohar and restless Daffi, who split their time between taking orders from an ambitious female commander and beating their best scores on the old school computer game, "Minesweeper."
Zero Motivation is loosely based of Lavie's own experience in the IDF, where she said she was assigned to a secretarial position. In an interview with the Times of Israel, she said most soldiers, especially women, see the army as an inevitable part of Israeli life.
"I think it's like school, you don't like it, but you go there. It's not a question of dropping out," Lavie told the Times of Israel. "It postpones a need to take responsibility of your own life."
But even though the army has made strides in granting high-ranked positions to women in the IDF, women still shy away from combat roles. The reason? Like other militaries around the world, the IDF is a boys' club.
A female soldier in the Caracal told the New York Times she thought the IDF might shut the battalion down if they thought the women weren't strong enough.
"You don't see them threatening to shut down the paratroopers," she said.
Women like Miri Eisen, a retired colonel who spent 20 years in the Israeli military, believe there are limits for women. She told NPR, "We won't have a female chief of staff. The glass ceiling is there for a variety of reasons."
Image Credit: AP.
If the IDF has proven there are unwritten limitations for women in the military, why has it mounted such a strong and convincing pro-women campaign? The Israeli government could simply be cashing in on the media's highly-positive portrayal of female soldiers in Israeli army, especially since the U.S. certainly seems to believe it.
When the U.S. opened up combat positions for women, they looked to countries like Israel, who have been placing women in hands on roles in artillery units, rescue forces and in anti-aircraft forces for years. But if Israeli women in combat roles face barriers for advancement, harassment from conservative factions and citations for saving another's life, perhaps female soldiers in America might opt for shredding paper, too.
Correction: May 17, 2014
An earlier version of this story incorrectly said that  Anastasia Begdlov, a female paramedic in the IDF, received a citation for saving a severely-injured man's life by using her bra as an arterial tourniquet to his knee.