North Korea's Racist Comments About Obama Are Horrible, Even for North Korea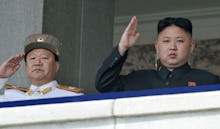 The news: Human rights abuses, check. Sexism, check. Racism, check.
North Korea seems to be on a PR blitz these days, vying for the title of "the world's most terrible country." Last month the country's state-run news agency, KCNA, published a misogynistic rant against South Korean president Park Geun-hye. Now it's back for a second round of sexism, along with a generous heaping of good, old-fashioned racial bigotry.
Last Friday KCNA published a lengthy and hateful polemic against U.S. President Barack Obama, timed with his state visit to South Korea. The piece is composed of essays by four different people, though the style and theme are remarkably similar in each one. The essays include the kind of racially-coded language that is better suited to Django Unchained than a government publication. Filled with references to Obama's skin color and mixed heritage, they almost sound like a parody of what you would expect from a North Korean news agency.
"Leaving aside his failed politics and his barely human countenance, this ugly dog dares to point fingers at our dignified, independent republic, our people's paradise," reads an essay by a steel worker named Kang Hyuk.
Another, by a military officer named Han Jin-Sung, is far more threatening: "These Yankees have no idea who they are dealing with, and we will teach them the true taste of fire and war. Our nuclear strikes of justice and our powerful baptism by fire will decimate America, that devil's den, without a trace — that is our resolution."
Other comments note that Obama is a "clown," "dirty fellow" and somebody who "does not even have the basic appearances of a human being." In fact, the KCNA story said Obama is "reminiscent of a wicked black monkey" and "should live as a monkey in an African natural zoo, licking the breadcrumbs thrown by spectators." The article also calls Obama a "crossbreed with unclear blood." 
The U.S. response: Even by North Korean standards, this is a bit much. And as to be expected, the White House is not too psyched about having the American president referred to as "an ape," "a human manufacturing error" and "this generation's garbage."
"While the North Korean government-controlled media are distinguished by their histrionics, these comments are particularly ugly and disrespectful," said Caitlin Hayden, a spokeswoman for the National Security Council.
What is going on? North Korea has been ratcheting up its rhetoric and aggression for a while, leading to all-time high tensions with South Korea and the West. Just last week the government released a 13-point human rights report against the U.S., and in March it launched test missiles after South Korean and American forces held joint military training exercises.
The country is also making the most of the Sewol ferry disaster in South Korea, attacking both Park and Obama for holding a state visit while bodies were still being found. "His ambition and deceit are such that he threw himself into a country in mourning, but it's impossible not to be stunned at the grotesque sight of him embracing that politician prostitute and gallivanting around all of Seoul," reads a KCNA essay by Jung Young-guk, a worker in the government's oceanic agency.
But perhaps the most likely reason behind this sexist and racist outburst is North Korea's rumored plans for another nuclear test. This is precisely the kind of anti-West rhetoric that North Korea uses to rally its people, and while the Sewol disaster and Obama's visit to South Korea might have provided the pretext for these diatribes, they're really more about flipping the bird at international observers and whipping up nationalist fervor — because nothing gets people going like bigotry.