10,000 London Taxi Drivers Are Going on Strike for a Reason Young Techies Aren't Happy About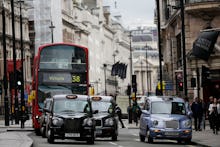 The news: If you're planning on being in London next month, make sure you plan your transportation carefully — it's going to be practically impossible to hail a cab. About 10,000 London taxis are going to go on strike next month, as the Europe's cabbies aim to show their discontent with Uber, the mobile app taxi service.
The taxi drivers plan to meet at a yet-to-be-named London landmark in early June, according to Licensed Taxi Drivers' Association general secretary Steve McNamara, and plan something that will bring "sever chaos, congestion and confusion" to the streets of London.
The lobby claims that by operating without following the same rules and practices required of normal taxis, Uber has gained an unfair advantage in the marketplace since Uber drivers don't have to pay for the steep licenses and permits required of regular taxi operators.
"All we're saying is if you want to come to London and operate the business model you're operating, you should operate within our laws," McNamara told Bloomberg. "This is about a good old British sense of fair play. It's not cricket ... They're not a commercial threat to us."
The background: London cabbies are arguing that they are forced to undergo rigorous training to get their licenses which can take years to complete. Drivers in the black cabs are seen as icons, like double-decker buses, Parliament and Big Ben. There's no satellite navigation and the drivers are supposed to know the quickest route between every landmark.
While Uber is pretty nifty, their detractors also say traditional cab-drivers provide a crucial service.
"I anticipate that the demonstration against Transport for London's [TfL, the London transportation agency] handling of Uber will attract many many thousands of cabs and cause severe chaos, congestion and confusion across the metropolis," says McNamara.
However, Transport for London (the London transportation agency) says that Uber vehicles are not "equipped" with taximeters because there was no "connection between the device and the vehicle," and therefore don't fall under their regulatory authority. But cabbies maintain that their is just a clever trick to circumvent requirements. To them it's a simple matter of making Uber follow the law, because Uber's anti-competitive advantage has allowed them to reach 100 cities across 30 countries in just the past five years. Uber is valued at around $3.5 billion after it received cash transfusions from Google Inc.'s venture-capital division and private-equity firm TPG Capital.
All over Europe: Uber claims it's not operating a taxi service, it's just providing a platform for drivers to start their own businesses, of which Uber takes a cut. Some places in Europe have seemed skeptical of this arrangement.
The Berlin taxi association argued that Uber violated rules requiring limousine drivers to return to base after delivery, thereby hurting competition. In April, a local court agreed and banned Uber, though the injunction wasn't enforced at the time. 
In Brussels, a local court ruling against Uber last month means that cars using the app will be subject to a 10,000-euro ($13,863) fine, though European Commission Vice President Neelie Kroes called the ban "crazy" and anti-competitive.
In France, the constitutional court struck down President Francois Hollande's proposal to impose a 15-minute pickup delay on Uber and other private car services. Parisian drivers blocked traffic from airports in February to protest these private taxis that aren't required to purchase the €200,000+ taxi permits.
To the cities that have taken action against Uber, it's a racket designed to avoid taxi regulation. But consumers apparently love the service, which is now taking in over $1 billion gross revenue — and that's just their slice of the action. Uber drivers are presumably making much more.
Why you should care: Uber probably won't kill off the traditional taxi, but the drivers have a strong argument that governments have picked winners and losers by choosing to let the service skirt regulations. No matter which way this goes, services like Uber are shaking up the markets, and it's likely traditional services will have to figure out a way to compete, or just hope that government rulings will come down on their side.