China Might Build a Super Train That Would Change Transportation as We Know It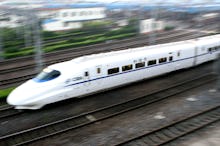 The news: According to a Thursday story in the country's state-run Beijing Times newspaper, China is now considering building a super-fast "China-Russia-Canada-America" high-speed rail line that would run for 8,077 miles and pass through 125 miles of undersea tunnels and connect China with America. The trip would take just two days and the train would fly down the rails at an average of 220 mph. That's 3.33 miles a minute.
According to Chinese Academy of Engineering rail expert Wang Mengshu, who claimed that the government was already in discussions, "Russia has already been thinking about this for many years."
There's room for skepticism. The tunnel would be a gargantuan project, considering it would be the longest undersea tunnel ever made, four times the length of the Chunnel, which connects France and England under the English Channel. And at this time, no other Chinese leaders have publicly supported the project. But it might just be the start: According to the Beijing Times, other staggering railways are under consideration. The Guardian breaks it down:
"The first is a line that would run from London via Paris, Berlin, Warsaw, Kiev and Moscow, where it would split into two routes, one of which would run to China through Kazakhstan and the other through eastern Siberia. The second line would begin in the far-western Chinese city of Urumqi and then run through Kazakhstan, Uzbekistan, Turkmenistan, Iran and Turkey to Germany. The third would begin in the south-western city of Kunming and end in Singapore. The routes are under various stages of planning and development [says the Beijing Times]."
Wowza. If completed, the rail networks would be one of the biggest infrastructural projects in the history of mankind. Traveling to Asia would never be the same.
But while the technology exists to make the train a reality, the political environment is less welcoming to the prospects of a cross-Bering route. Large-scale American infrastructure investments — in trains in particular — aren't in vogue right now. The feds have struggled to keep Amtrak adequately funded and botched the modest Acela project (which has, despite early failings, since become a huge success). And it would likely cost a whole lot of money. A Baltimore-D.C. maglev rail line alone would cost well more than $8 billion dollars. Conservative groups like the Heritage Foundation often point to high-speed rail projects as expensive boondoggles that waste public funds.
But we can dream: As the International Business Times highlights, high-speed rail technology is one of the Chinese government's high-ranking priorities. Premier Li Keqiang makes it a habit of recommending people use Chinese rail expertise, telling four African leaders to make the investment this week.