There's a Dark Secret Behind Apple's Deal to Buy Dr. Dre's Beats for $3.2 Billion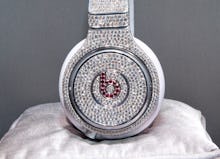 If you know almost anything about Beats by Dre, you know that basically every famous person in the world wears them. Rappers wear them in studio, football and basketball players sport them before and after games. It seems like whenever a celebrity is wearing headphones, they're wearing Beats. They're everywhere — and they're about to get much bigger. 
Last night, the tech world shook more than a pair of Beats headphones playing "Xxplosive" with the bass all the way up. Apple announced its intention to buy Dr. Dre's Beats Electronics for $3.2 billion. That would be Apple's biggest acquisition ever. As everyone, for racially charged reasons, has pointed out, that makes Dre the richest man in rap.
It's too bad, then, that Dre's headphone empire is apparently built largely on someone else's work.
The purchase might seem random, at first. But the point here is not a better earbud for the iPhone. In January, iTunes saw its digital music sales plummet for the first time since its store opened: The service lost 1.34 billion track sales across 2013. Spotify, meanwhile, rose $250 million in funding and bumped its valuation to $4 billion. So Apple is likely buying Beats to shore up their download sales with the Beats streaming service. It makes some sense. And when Dr. Dre steps on camera in his celebration video to introduce himself as "the first billionaire in hip-hop," it's clear he thinks it makes good sense, too.
But the story people aren't telling is that one company is missing from the payout.
Last year, tech blog Gizmodo published an excellent piece on Beats by Dre's origin story. It involved a little known audio company called Monster — a company familiar mainly to 7th grade guitarists who nag their parents to buy them a nicer guitar cable for Christmas. At one point, though, Monster dreamt of more. Back in the day, Beats headphones used to have the Monster logo imprinted on their shining frame. It isn't there any longer.
According to Noel and Kevin Lee, the father and son team behind Monster, they were royally scammed by Beats and have the design documents to prove it. Noel Lee began Monster, Inc. in his parents' basement. He grew the company with powerful audio technology until he had a son to run the business with him — Kevin. The two of them decided in the 2000s that they wanted to make high quality headphones. They went to LA looking for business partners and they found famed producer and shrewd businessman Jimmy Iovine (Chairman of Interscope Records) and Dr. Dre. The two were very interested in partnering.
The first deal fell through. Then Dre and Iovine expressed interest again. Kevin Lee, eager to seal the deal, began designing. He made 40-50 models. They spent 1.5 million, all without an official deal. When it came time to negotiate again, Lee had no ground to stand on and no business acumen to make up for his gambit. A contract was drawn up whereby the business side of Beats would own every piece of technology Monster developed. They built the technology; Beats sold it at a mark-up, and then they mostly denied that Monster ever had a hand in designing the product. They gave electronics giant HTC 51% of their company for $300 million and cut Monster loose. When you buy Beats now, they're the same as they were before, just without any trace of Monster. It wasn't illegal — even by Monster's account, they did a poor job of protecting themselves. But it was still unethical.
Between 2010 and 2012, Beats' revenues quintupled. The company made more than $1 billion last year. In no time, they became one of the most recognizable brand names on the market and were eventually able to capitalize on their name to create a streaming service attractive enough to entice Apple. The price is $3.2 billion — the cost seems far higher.
Updated 5/9/2014