The Two Young Women Pictured Here Just Made History in Arkansas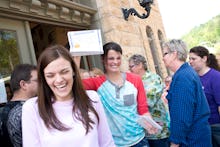 In conversation with friends, it's not uncommon to hear someone say they can think of "no rational reason" why gay couples shouldn't be allowed to marry. And, that's exactly what Pulaski County Circuit Judge Chris Piazza said on Friday, when he struck down a 2004 voter-approved constitutional amendment banning same-sex marriage.
The 2004 amendment passed with an overwhelming 75% majority, but Piazza called the amendment an unlawful violation of basic rights. "This is an unconstitutional attempt to narrow the definition of equality," Piazza wrote in his decision. "The exclusion of a minority for no rational reason is a dangerous precedent."
No hold, let's go: Rather than putting his ruling on hold, as some circuit judges have done in other states, Piazza granted same-sex couples the ability to obtain a marriage license as soon as possible.
"The court didn't give us any time to get the kinks worked out," said Chris Villines, Association of Arkansas Counties executive director, who argued the immediate ruling caused confusion among the state's 75 county clerks.
But despite the possible hiccups, same-sex couples stood in line on Saturday morning to apply for their marriage licenses. Jennifer Rambo, 26, exchanged vows with her partner Kristin Seaton, 27, in an impromptu ceremony outside the state court house, becoming the first same sex couple to marry in Arkansas.
Appeal? Arkansas Attorney General Dustin McDaniel has already announced its plan to appeal the ruling. "We respect the Court's decision, but, in keeping with the Attorney General's obligation to defend the state constitution, we will appeal," spokesman Aaron Sadler said.
Just one week ago, however, he became the first statewide elected official to announce his own personal support for gay marriage.
Other states next? As the U.S. continues down the seemingly inevitable path toward national marriage equality, more groups are joining the fight (sometimes unexpected ones). As demographic trends and public opinion continues to shift, Arkansas' example suggests it may be only a matter of time before more states follow suit.