11 Powerful Netflix Documentaries That Will Change How You Think About Food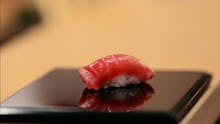 Food porn, #cleaneating, Instagrams of each and every meal of your day: We are living in a culture of food obsession by way of voyeurism. We rarely dine without documenting the experience, and in response to the timeless question "who runs the world?" one look at social media will give you the answer: foodies.
1. 'Spinning Plates'
Spinning Plates takes the viewer behind the scenes of three incredibly different restaurants, focusing on the obstacles and intricacies that make each unique. From the high stakes of a molecular gastronomy hot spot to the struggles of a small mom-and-pop shop, this documentary paints an intimate portrait of the food service industry from a variety of angles.
2. 'Jiro Dreams of Sushi'
Jiro Dreams of Sushi offers a close-up of Jiro Ono, his three-star Michelin restaurant in a Tokyo subway station and his quest to create the perfect sushi. Jiro's underground restaurant is pressed for space and can only seat about 10 people, so this may be the closest you'll ever get to a table. As Roger Ebert wrote in his review, "This is a portrait of tunnel vision. Jiro exists to make sushi. Sushi exists to be made by Jiro." The tunnel vision paid off: This documentary made Jiro a global sushi sensation.
3. 'Forks Over Knives'
Though it sounds like an instructional video about how to use cutlery, Forks Over Knives is actually a shocking portrait of America's eating habits and the health risks our animal and processed food-based diet can incur. The "knives" referenced in the title are actually surgical scalpels, which support the film's thesis: If we change our diets, we can ease up on our medicine. 
4. 'Inside: Chipotle'
Rather than waste all day talking about how you're craving Chipotle, why not spend 21-minutes learning something about the franchise? Inside: Chipotle shines a spotlight on the business and innovation strategies of everyone's favorite chain, right down to the in-store chair design.
5. 'Food, Inc.'
Food, Inc. presents a no-holds-barred look at the production process behind the stuff we eat, and tackles the agricultural implications that don't stop at your stomach. The documentary focuses on the extreme changes to the food industry that have taken place over the last 50 years and exposes the laws that help keep those often overlooked new practices a secret.
6. 'Super Size Me'
Good news for anyone who missed the notorious film back in 2004 — Morgan Spurlock's legendary documentary is available for streaming. Watch what happens to Spurlock's body as he spends a month eating nothing but McDonald's. The ominous trailer gives a strong hint: There's not a whole lot of "lovin' it" here.
7. 'More Than Honey'
More Than Honey aims to understand why the world's bees are disappearing, and in the process provides an abundance of mind-blowing facts about the insects. For example, one-third of what we eat wouldn't exist without bees. That figure alone should make getting stung seem like much less of a big deal.
8. 'Fat, Sick & Nearly Dead'
If you're looking for motivation to change your lifestyle, look no further. Fat, Sick & Nearly Dead chronicles Joe Cross' attempt to lose 100 pounds and offset the food-induced damage he's done to his body. The film also recounts the struggles of people he meets along the way. Fat, Sick & Nearly Dead investigates the effects of an unhealthy diet and explores our ability to reverse it.
9. 'Hungry for Change'
Changing the way you look at food isn't necessarily a pleasant experience. Hungry for Change aims to uncover some of the food industry's worst secrets about the FDA, sugar and what humans as a species should be eating. Sure, the film may serve as healthy eating propaganda, but at least that's spoonful of sugar we can take down.
10. 'Somm'
You know what pairs well with food documentaries? Wine documentaries. Somm follows four wine lovers as they take the world's most difficult wine test — the Master Sommelier exam. Expect to learn a lot about wine, as well as a lot more about how much easier it is to just trust your waiter.
11. 'I Like Killing Flies'
For many people, eating and New York are synonymous. Those people will love I Like Killing Flies, a Sundance film that documents the final year of Shopsins, a restaurant in Greenwich Village. The film offers insight into the New York dining scene, as well as poignant observations about restaurants that we may take for granted. If you take one thing from the movie, let it be that you should always tip.