13 Essential Music Apps That Aren't Pandora or Spotify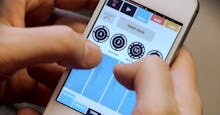 Modern technology hasn't always mixed well with music. For every danceable Daft Punk hit, there's an equally grating auto-tuned hook off somewhere, ruining a rap song.
But music technology has actually done more for listeners than producers. All fears of piracy aside, the Internet has brought around a brilliant era of innovation in how we listen, create and view. Everybody knows about Spotify and Pandora, but there are a host of incredibly inventive apps and sites that help us explore, engage with and share the music we love like never before.
Here are the best new music apps for casual music fans, certified music geeks and aspiring musicians and producers alike:
1. Who Sampled
Hip-hop heads take note: Who Sampled will go through your iTunes library and identify the origins of each and every sample from your favorite records.
A lot of hip-hop producers delight in finding the most obscure snippets from old records to use on contemporary tracks (Chaka Khan's "Through the Fire" on Kanye West's "Through the Wire," anyone?). Who Sampled helps bring those original recordings to the general public.
It's also good fodder for dinner party conversation. Example: Did you know that Jay Z's "Big Pimpin" samples an Egyptian pop tune from the 1950s? Now you do.
2. Rdio
Ever wonder what music Snoop Lion (formerly Dogg) is listening to right now? Rdio has you covered.
Although on the surface it seems like just another music streaming service, what's really cool about Rdio is its celebrity fan base: Artists from Snoop to My Morning Jacket's Jim James to Scissor Sisters' Jake Shears all use the service, so you can see what they're listening to in real time. (For the record, Snoop listens to a lot of reggae. No shock there.)
3. Soundhound
Soundhound is for anyone who's ever had an unidentifiable song stuck in their head. It's a little like Shazam on steroids; the application lets you sing, mumble or hum whatever you remember of the elusive track. It will then look up the name of the song you had in mind.
This is especially useful for people like this Reddit user who has been trying to find a song he heard on the radio for the last 10 years.
4. iHeartRadio
Radio, the "original" music streaming service, will never die. iHeartRadio proves that's a good thing by compiling thousands of radio stations from all over the world and making them available for streaming. News, talk, music, sports — everything that makes radio great is right on the app.
What's more, you can find stations organized by theme to listen to wherever you are. In a world where we're always our own personal DJ, sometimes it's really nice to be lazy and let someone else do the driving.
5. CrowdSurge
Most music fans have a love-hate (mostly hate) relationship with Ticketmaster. It is so bad, in fact, that Ticketmaster started a public relations blog on which their CEO posted "We get it — you don't like service fees."
They haven't done much about that, and the site really does have outrageous service charges. Enter Crowdsurge, a ticket vendor that provides a more direct connection between performers and the people who want to see them. The company is basically a friendlier, cheaper and less greedy middle man than Ticketmaster. Artists from Arcade Fire to the Postal Service are jumping on board, and you should too.
6. Gigfunder
Gigfunder acts like a Kickstarter campaign for independent, up-and-coming musicians to reach fans who are farther out. Want to see some obscure Belgian DJ come to your city? Gigfunder will help you make it happen.
Currently, Gigfunder is small enough — it's less than two years old — that most tours don't get enough funding. But it's a powerful platform, and with a bit of time and some clever marketing, Gigfunder could become an essential bridge between indie artists and their fans.
7. Tomahawk
Artists typically have different records streaming on Spotify, Soundcloud, Rdio or Grooveshark. Tomahawk bridges across them to streamline all your favorite music into one centralized player. Tomahawk users can compile and organize them with friends. If you use multiple streaming services on a regular basis, you need Tomahawk.
Artists typically have different records streaming on Spotify, Soundcloud, Rdio or Grooveshark.
8. Soundcloud
There are a lot of great, free music on Soundcloud — artists often release album previews and singles on the streaming service — but the app is most valuable for fans of electronica.
A lot of DJs post mixtapes and remixes on the site for free, and if you're looking for "work music" to play while doing even the dullest job, it's hard to beat Soundcloud.
It's a fun and inventive community — check out this Justin Bieber song slowed down by 800%. Trust me.
9. Figure
Fancy yourself the next Pitchfork darling? You'd probably like Figure. The app lets you create impressively danceable electronic music using your iPhone. It boasts a number of impressive drum machines, beats, synthesizers and an intuitive creation tool.
Among the many music creation tools for iPhone, Figure is the best. It's optimized for Facebook, too. So you can drive all your friends nuts and share your electro Nickelback covers. Just to upset and confuse people.
10. Sound Cells
This is an app for anybody who could never read music. Relying on visual patterns, grids and various sounds, Sound Cells lets you create "musical pictures" using your iPhone. In essence, you can mess around with different images, visual themes, etc., and create sound patterns based on them.
Full disclosure: It's reportedly especially enjoyable under the influence of certain illicit substances.
11. Discovr
Discovr is one of the most powerful discovery engines out there. It helps you find artists and entire genres you'd like based on your current musical tastes, making great use of visuals and skeleton charts to draw connections and highlight similarities between artists. It's easy to get lost in the app for hours.
More often than not, their recommendations hit the spot, too. Remember that guy at your local record shop who ALWAYS recommends really good stuff? Discovr is that guy — on speed.
12. Bloom
Bloom is the brainchild of ambient pioneer Brian Eno, and the musician's fingerprints are all over the application right down to the description: "Part instrument, part composition and part artwork." Users control Bloom through tapping and dragging the innovative visualizations, each of which has corresponding sounds. It's also capable of creating an infinite variety of pieces by itself.
Eno describes Bloom as a "music box for the 21st century." It's mystifying that it hasn't really taken off yet. It's like being able to make your own Music for Airports.
13. Songkick
Songkick is for serious live music junkies. The app lets you keep a close eye on the concert calendar of your favorite bands and plan your own personal "concert calendar" around them.
To put it in perspective, if you like The National and would enjoy catching them live if they come to your town, you can leave it up to fate whether you check their tour site or see a friend's Facebook post in time.
However, if you live for The National and would throw yourself off a bridge if you missed them when they came to your town, you need Songkick.