53 Nigerian Girls Were Brave Enough to Escape – And Now They're Revealing Their Terrifying Stories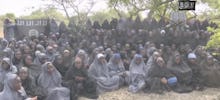 The news: It's been nearly a month since over 300 schoolgirls from the village of Chibok were kidnapped by Boko Haram, an Islamist insurgency loosely affiliated with al-Qaida. 
Though the Nigerian government has made little headway in rescuing these girls, outrage over the incident has inspired a viral social media campaign and pledges by the U.S., the U.K., France, China, Spain and Israel to assist with the operation. 
But in the meantime, around 53 girls are estimated to have escaped their captors on their own and some of them have begun sharing stories of their ordeal. 
The girls' stories: At a meeting with Borno state officials, a group of girls who managed to escape recounted how they were forced outside to wait while Boko Haram men raided the school storeroom for food. "The girls that had no shoes on and were not wearing veils were told to go and fetch them as they started to set the school on fire," one girl said.
Another remembered how she convinced her friend to run away with her. "I told my friend that it is better to be killed than to be taken to a place that we did not know," she said.
According to 19-year-old Sarah, a science student, the entire experience was "too terrifying for words." Though she saw an opportunity to escape, other girls were too afraid of their captors' threats. And while she has safely returned home, she is wrecked with survivor's guilt. "I am pained that my other colleagues could not summon the courage to run away with me. Now I cry each time I come across their parents and see how they weep when they see me," Sarah told the Associated Press.
She added that although she was afraid of returning to school, she wanted to fulfill her dream of studying law. "I am really scared to go back there; but I have no option if I am asked to go because I need to finish my final year exams which were stopped half way through," Sarah said.
Another girl, who asked not to be identified, told CNN that she and two of her friends were able to run to safety after seeing a fire from far away. "We would rather go than die ... We ran into the bush. We ran and we ran," she said. Afraid of retaliation, she declined to describe the interviewers, and unlike Sarah, she said she would not return to her school if it opened again.
Breaking video: Along with the new insights into the girls' terrible ordeal as told by some of the escapees, Boko Haram recently released a video that claims to show about 100 of the girls reciting a passage from the Quran. In the video, Abubakar Shekau, the leader of the Boko Haram, indicates that he may be ready to negotiate for the release of the kidnapped girls.
What is happening now? After weeks of inaction, the Nigerian government has accepted international offers for help — but some fear it may already be too late. Amnesty International has accused officials of failing to respond despite advanced notice that Boko Haram was planning on attacking Chibok. According to the organization's report, the military commanders could not gather enough men to respond.
"There's a lot of frustration, exhaustion and fatigue among officers and [troops] based in the hotspots," one local commander told Amnesty. "Many soldiers are afraid to go to the battle fronts." Other reports indicate that the local police fled into the bush during the attack.
According to intelligence sources, the kidnapped girls may have been divided into groups and moved to neighboring countries such as Niger, Cameroon and Chad.