The Real High School From 'Friday Night Lights' Is Now Reeling From a Major Scandal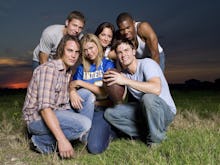 The news: Fans of the celebrated TV drama Friday Night Lights will remember Dillon, Texas, as the fictional small town where "God loves football," everyone is gorgeous and high school students are played by actors clearly at least seven years removed from graduation.
But that might change after the events of last week. The real-life town of Odessa — in which the FNL series, film and nonfiction book are based — has come under national scrutiny following allegations that five teachers from the real high school that FNL was based were allegedly engaged in "inappropriate relations" with students over the past year.
Damn. The allegations culminated with the suicide of Permian High School instructor Mark Lampman, who was found dead Wednesday in a field. Authorities say the cause of death was a self-inflicted gunshot wound to the chest and that a suicide note was found near his body.
Lampman had recently resigned from Permian after being accused of an improper relationship with a female student, allegedly telling his wife, "I can't go to jail because they would kill me. I'd rather do it myself."
His was the fifth such case to strike Permian since last spring.
Image Credit: Washington Post
The others: On April 8, 2013, 28-year-old history teacher and swim coach Kathryn Maples resigned after being accused of inappropriate sexual relations with a 17-year-old male pupil. According to the Odessa American, she was later charged with "sending sexually explicit pictures and online solicitation of a student."
The following day, athletic trainer April Collins, also 28, resigned amid an investigation into her relationship with a 19-year-old male student.
The pattern continued this year when another male student's mother accused an unnamed female Permian employee of an improper relationship with her son, prompting her to resign. Then on April 28, 25-year-old assistant softball coach Alisha Carrasco Knighten was placed on paid administrative leave during an inquiry into her "possible improper relationship with a student."
Lampman, 47, was the fifth case. He taught government and coached girls' golf and was reportedly voted favorite teacher by Permian seniors for multiple years running, including last year. His suicide has prompted an outpouring of social media support, with a Memories of Mark Lampman Facebook page garnering over 1,300 likes and a thread of loving comments over the past week.
What's going on here? Permian High School gained notoriety as the 1988 football team was the subject of H.G. "Buzz" Bissinger's 1990 book Friday Night Lights, which some critics say unfairly depicted Odessa as "a city of rednecks and racists, where winning [football games] mattered more than learning."
Image Credit: AP
Yet many who lived there insist it's a "dead-on accurate" portrayal, even "painfully so:"
"A lot of the people who say the book got it wrong didn't read it," Brian Chavez, one of the players depicted in the book, said in 2010.
The town was eventually mythologized as Dillon, Texas, a glowing and romantically rendered snapshot of small-town America that lived for five seasons as the center of NBC's Friday Night Lights TV series. Although ratings were low, the show developed a passionate cult following drawn to its richly etched characters and soulful story lines.
The irony that someone as wholesome and inspirational as coach Eric Taylor could inhabit the same conceptual universe as five teachers accused of improper relationships with their students is almost too stark to stomach. That all five were involved in sports in some capacity only adds to the pain.
Sadly for the victims, families and community as a whole, the situation's reality is tragic in a way network television could barely hint at.