One Artist Found an Ingenious Way to Shelter the Homeless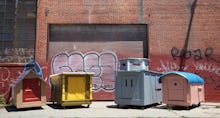 You may recognize Gregory Kloehn as the artist who lives in a dumpster. It's a clean dumpster — one that he refurbished to include a kitchen, bathroom, bedroom and sundeck — and it's part of a thought-provoking project Kloehn spearheaded to build housing for the homeless. 
For the last three years Kloehn has built these homes from items generally considered to be trash. He uses reclaimed and recycled materials forraged from illegal street dumps to create bright, quirky, move-able homes for the homeless in his Oakland neighborhood. 
"There is a spontaneity and playfulness in making small homes that traditional houses  do not offer," Kloehn said in a recent interview with Tiny House Blog. "It reminds me of making forts as a kid, no city planners, no architects, no crews, no bank loans, just my ideas and my hands."
The initiative, known as the Homeless Homes Project, hits a strikingly human and uniquely artistic nerve, marrying social change with art. Initiatives like housing for the homeless are often bound up in politics and stats, Kloehn's work rejects those complicating motives — simply and directly seeing a problem and addressing it. 
Kloehn's project was not initially all about social change. "I wish that I could say that I set out to house the homeless, but my motivation was not so lofty," Kloehn told PolicyMic via e-mail. Instead the project began while researching for his book Homeless Architecture. "I was inspired to take these same materials [used by the homeless] back to my shop and put them together in a more permanent fashion. After about a week of collecting and building, I had a 21st century hunter/gather home, built from the discarded fruits of the urban jungle."
That first home sat in his studio for months, unused, until one night, a local homeless woman asked if he had a tarp to protect her from the rain. He didn't, but the tiny home gave him an idea. 
"As I walked past the home, it hit me, 'I should give her this.' I ran back out and told her to come back tomorrow and I would have a home for her.  She and her husband Oscar came back the next day, I handed them a set of keys and a bottle of champagne and watched them push it down the street. It felt so good that I started making another one that same day."
Since that moment three years ago, the Homeless Homes Project has provided approximately 10 small, mobile shelters to people in the Oakland-area.
According to a study done in January 2013, California accounts for more than a fifth of the nation's homeless population — meaning Oakland is a logical place for this initiative to take shape. 
"In the mornings, I get a coffee and drive around to the dumping hot spots in Oakland and see what I can find," Kloehn said explaining his construction process. "I look for pallets, bed frames, futon frames, doors, plywood, OSB board, paint, packing crates, car consoles, auto glass, refrigerator shelves … I basically look for anything made out of real wood, any tempered glass and sturdy frames for the walls. The only items I must buy are nails, screws, glue, paint brushes and saw blades. Everything else comes from the street or the dumpster."
Homeless people are relocated regularly, by the police and others, so the homes are built on wheels to be mobile. All told, each home costs roughly $30-50, and takes a week or so to build. Of the materials that must be bought, some Kloehn purchases and others are donated by local businesses. 
After completion, Kloehn gives them to homeless people that he knows in the area; they are his neighbors. 
As yet, the Project is more of an experimental, experiential art installation than a fully fledged social movement but it's a powerful expression of how art and social initiatives can come together.
All photos copyright Brian J. Reynolds, and used with permission from Gregory Kloehn. To support The Homeless Homes Project, visit http://www.homelesshomesproject.org and donate or contact Kloehn.