This 3-D Printing Pen Will Change How You Write Forever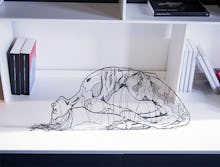 The news: If you've ever wanted to see your notebook doodles and 3-D designs to come to life, you might be in luck.
Meet Lix, "the smallest pen that does not require paper." The 3-D printing pen, created by a London-based company, allows you to doodle mid-air as plastic filament melts and hardens into a freestanding shape.
Watch the video below to see how it works:
Image Credit: Dezeen
How this is different: Of course, Lix is hardly the first 3-D pen to hit the market. A year ago, a similar product called 3Doodler made waves when it first appeared on Kickstarter. It also uses acrylonitrile butadiene styrene (or ABS) plastic, which melts and instantly solidifies into shape.
But some have described 3Doodler as a "squirrely and imprecise" gadget that is more suited to be a cool toy than a real design tool. Lix, on the other hand, is smaller and weighs just over an ounce. All you have to do is plug it into a USB port, and the pen takes less than a minute to heat up and be ready for doodling.
Image Credit: Lix
"You do not need any sheets of paper or pencil trying to make your sketch more expressive and understandable, or giving your drawing more realistic and detailed fill," said Delphine Eloise Wood, a cofounder of the project.
Infinite potential: Just as 3-D printing is revolutionizing everything from medicine to manufacturing, 3-D writing could also be into a myriad of fields — including some unexpected ones. "One lawyer stated she needed the pen for possible use during trials of Med-Mal cases to provide 3-D images of various body parts lost due to negligence," said Wood.
Like 3Doodler, Lix is being funded through Kickstarter, and with several weeks to go, it's already been funded several times over its initial budget.