What To Tell Anyone Who Thinks EDM Isn't Real Music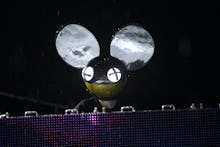 Last week, the host of a popular New York radio show was grilling Afrojack, one of EDM's most successful producers, about whether he pre-recorded his sets. That set him off: "I have seriously never seen a pre-recorded set," he said. "Most of the comments you see on the Internet about pre-recorded mixing [are from] 12-year-old kids who don't know shit about DJing."
But it isn't only 12-year-old kids who have decided that EDM is all button pushing. Recently, Win Butler, frontman of indie rock darlings Arcade Fire, used his group's headlining spot at Coachella to give a "shout-out to all the bands still playing actual instruments." That time, Joel Zimmerman, aka Deadmau5 (who was allegedly banned from the festival after flying in unannounced on a helicopter in 2010) fought back on Twitter.
EDM has the unfortunate honor of being incredibly popular and completely disrespected. These were not the first EDM feuds in the industry: The culture wars came to a head last year when Tim Bergling, better known as Swedish superstar producer Avicii, exploded on social media after a GQ profile criticized him, his fans and the genre as a whole from the headline to the very last word. "The King of Oontz Oontz Oontz" came out swinging, immediately describing Avicii as "making $250,000 a night to keep the Ecstasy-dosed, champagne-soaked masses moving." 
Even the EDM world turned against him for the profile. Fool's Gold Records cofounder A-Trak and others were angry because he'd claimed that playing EDM was "mostly volume … Or the faders, when you're starting to mix into another song." Deadmau5 had already claimed, in a Rolling Stone cover story from the same year, that some DJs are "button-pushers getting paid half a million." It's true — EDM often is about getting onstage pressing play. But that's not even close to the point.
The button-pushing critique has plagued EDM from the beginning, but as an argument, it's deeply flawed. EDM isn't about the performance, it's about composition. Actually, in its complexity and relationship between composer and performer, EDM is a fair amount like classical music. If you want to take down EDM in all of its glorious intricacies, you'd better be ready to take down the classical canon.
It sounds crazy, but Zedd, Avicii, Deadmau5 and even David Guetta have way more in common with classical composers than they do with Win Butler. Classical composers may have been expert musicians themselves, but nobody remembers them for their performances. Their compositions are their legacy. Before Deadmau5 ranted back at Win Butler, he reminded Twitter that "[a] computer is a tool, not an instrument." In fact, Ableton, Logic and all the rest are tools for music production and arrangement, essentially coming together as digital sheet music. Like any music, EDM has its hacks, but it can take real genius to string digital blocks into beats and even those hated-upon "drops" into something compelling. Some classical music may appeal more to reason than emotion, but the dynamic between composer and performer is the same — unless you're willing to call composers 17th century button pushers, it's not fair to say the same of EDM producers.
Granted, EDM often isn't as intricate as classical. In its appeal to rhythm and dance — and in the classist backlash to those goals — it's a lot more like jazz. But any seriously entertaining art takes a lot of skill. There's a reason, then, that the best EDM producers often have deep classical backgrounds. Lindsey Stirling, Griz and Zedd have serious classical training. Stirling plays violin — she was trained classically — alongside live hip-hop and dubstep at her live shows. Griz has similarly capitalized on his classical saxophonist roots as he pioneers new sounds in EDM. At this year's MTV Music Awards, Zedd played piano for Ellie Goulding's "Beating Heart" before running over to turntables for his own smash hit "Find You." His songs have caught the ears of millions for their perfect composition — something he encountered first when he grew up in Germany planning to be a classical pianist. His making EDM rather than classical isn't a failing — it's an artistic choice like Picasso's decision to rearrange people's faces even though he was capable of excellent classical painting. Zedd could play more than a computer, but few can compose a beat like he can. 
EDM producers aren't the only ones to make the connection. Even Hans Zimmer, award-winning contemporary composer of the most iconic orchestral movie scores, including Gladiator and The Dark Knight, has connected himself to the EDM universe. Zimmer created the soundtrack for European EDM mega-festival Tomorrowland's 10th anniversary this year. Referring to the diverse 200,000 people who attend the festival each year to celebrate this supposedly worthless music, Zimmer said, "All the things that make us different are actually the things we should be celebrating."
It's true of cultural diversity, and it's true of music. An EDM concert will never look like an Arcade Fire show — it's true that it doesn't involve physical instruments. But that isn't what EDM is about. When a beat is well-composed, the world moves with it. Whether its creator presses play or not couldn't matter less.