More Absolutely Shocking Photos of Football Players Publicly Kissing Their Partners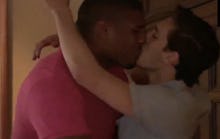 Michael Sam made history this weekend when he became the first openly gay player to get drafted to the NFL. But most of the headlines and comments focused on that kiss. When Sam got the phone call, he turned to his boyfriend in tears and gave him a big ol' smooch — several, actually — because that's what you do when you get good news. You share the joy, the excitement and the relief with your partner who's stuck with you along the journey. 
It was a touching moment, an encouraging step for the LGBT community and an important milestone in television history. But is it really so outrageous that an athlete would kiss his partner? Some people certainly thought so, including Miami Dolphins safety Don Jones who called the moment "horrible," and former player Derrick Ward.
It might be wise to take a second here and remember that athletes kiss their partners on TV all the time, and rarely do those moments become Twitter fodder. The difference of course is that being gay is still perceived by some as unatural or even gross, and it's got to stop. Ward had a point — children probably were watching the NFL draft on their televisions at home. And that means that it's likely LGBT youth were also watching. Research shows that LGBT middle and high schoolers are highly vulnerable to bullying and harrassment — and are more than twice as likely to attempt suicide as their non-LGBT peers. In this context, the decision to air Sam's kiss wasn't just good television, it was sending a message to all those watching at home that it does get better.
So to all those people who tweeted their disgust at the coverage — think of the children, ESPN! — this is for you.
Image Credit: AP via Tennessee Valley Now
Image Credit: Fullcourt Pumps
Image Credit: Getty
Image Credit: Pinterest
Image Credit: Twitter
Image Credit: AP
Image Credit: YouTube
Next time, hopefully viewers will be able to focus on what really matters here.