The Strange Inside Story of How Epic Records Resurrected Michael Jackson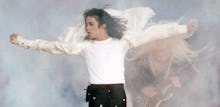 In 1972, a 12-year-old Michael Jackson was on network television with his brother Jackie, politely refusing to tell a man 33 years his senior how much money he'd made. It was a fair question — in the two years of the Jackson Five's existence, Michael Jackson had helmed seven albums, four of which went to No. 1 and sold over 1 million copies. When Michael proved reticent, the interviewer tried a more common line of questioning:
"What's going to happen when your voice changes?"
Michael Jackson's voice has changed twice in his career. Once, not long after that interview when he hit puberty and then unprecedented superstardom. And again, 37 years later, when he died from an overdose of Propofol on June 25, 2009. The next year, Sony Music struck a $250 million, 10 project deal with his estate — the most lucrative in music history. Since, they've released two records in which they've tried to bring Michael Jackson back to life from his "secret" back catalogue. On Tuesday, they made their best effort yet — the eight songs on brand new album Xscape, reconstructed from the vault of Jackson's golden age recordings. From the time he was 12, the world has been trying to keep Michael Jackson from changing.
That includes an American public unwilling to let go of an idol. Two days following Jackson's death, 9 of the 10 best selling albums on the iTunes charts and 40 of the top 100 songs were by Jackson. Between then and July 15, he sold 2.3 million albums in America alone, making him the top-selling artist of the year. A year later, though, a struggling Epic Records tried to cash in on their property with the abysmal Michael, a post-humous record of songs Jackson was working on right when he died. It was so bad that his family members actually wondered if he were singing on all the tracks. Since, Jackson's ghost has kept relatively silent.
In those years, though, American audiences and music producers have only gotten more creative in their attempts to revive the beloved singer. The Jackson estate sold rights to Cirque du Soleil to create a show based on his music. It earned $325 million across over 400 shows, making it the ninth biggest tour of all time. The year of his tour, L.A. Reid, former Michael Jackson producer, X Factor judge and chairman of Epic Records, hatched a new plot to save his ailing label through Michael Jackson. He came up with Xscape.
When Michael Jackson made an album, he worked on many more songs than he released. L.A. Reid wanted the best of those songs. So he took John Branca, Jackson's attorney and co-executor of his estate, to the warehouses where Michael Jackson's archives are kept and began a search. Sometimes, Jackson would record for 16 hours or longer if he loved a song, layering vocal upon vocal. Those were the songs Reid wanted — the non-album tracks Jackson most wanted to see completed from the time just after Thriller was released at the end of 1982 until the end of the 20th century. They found their songs, and then they assembled a team of some of the biggest producers in the world — everyone from Timbaland to famed Norwegian producers Stargate.
It was an epic undertaking, but reading about Xscape you might think that an undead Michael Jackson were roaming the halls of Epic, gasping and snapping. Headlines about its release have all but said so — from Billboard's somewhat subtle "Michael Jackson Lives Again on the Hot 100" (subsequently changed), to the LA Times' factual "'Xscape' aims to bring Michael Jackson back to life," to the Kansas City Star's breathless "Michael Jackson resurrected in 'Xscape' album out today." The New York Times attributed the album to "bionic Michael Jackson: an identifiable remnant of the man encased in gleaming contemporary technology" while Billboard titled their big cover story "Bringing Michael Jackson Back." It seems likely that holographic Michael Jackson will be appearing at the Billboard Music Awards this Sunday. Two of the album's producers have even reported incidents of Jackson speaking to them as they worked. Rodney Jerkins heard Jackson urging him to "dig deeper" for new sounds. Timbaland, reflecting on the recording process, claims to have heard MJ's encouraging voice during an especially difficult mix: "That's it, Tim."
All this from a project inspired, in part, by the success of a high-grossing, post-humous circus-concert series called, simply: The Immortal World Tour.
Image Credit: Cirque du Soleil.
For his whole career — on either side of his adult life — Michael Jackson's fans have been losing their star. Once a boy, then a man, now a ghost, Michael Jackson was at every point more a notion of pop perfection than flesh and blood. The songs on Xscape are admirable attempts to bring him back to life — most notably, "Love Never Felt So Good," a joyful dance number in which Justin Timberlake actually speaks to Michael Jackson — but they are not him. On the album cover, he peers over the lid of a silver disc that is either raising or lowering a kind of galactic fabric around him. Whether we're to believe he's escaping from the beyond or into it is a matter of interpretation — the gist is the same; he's back.
Image Credit: Epic.
At the end of the 1972 interview with the shy Jackson brothers, Robert Abernethy tried to tie off the conversation. "How about you Michael, are you going to sing forever?" Like any 12-year-old, Jackson's answer was yes. Three years later, Motown released their last Jackson album on their label — his last as a child star. It was called Forever, Michael.
Many people have dreamed, like those who own the rights to Jackson's catalogue, of preserving someone forever in sound. These projects always take on a religious tone — it's hard to speak of life after death without talking about resurrection. That's because we've always thought this way about recording. Back in the early 1900s, a preacher in Rideout, Ky. named Henry C. Slade realized he was going to die, so he too made a record. He carefully planned a funeral with his deacons in the time before his passing. When the day came, crowds flocked to the event from the surrounding area. As they arrived, they were met with an empty pulpit. From his coffin, Slade's voice still could be heard giving his last sermon. At the end, he led the congregation in song — his voice, too, unchanged.