The Next Big Hotspot for Making Movies Is Not New York or Hollywood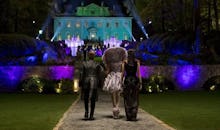 Hunger Games' fans, Panem is real. Or at least, parts of it are. President Snow's mansion, District 12 and even the arena for the 75th Hunger Games can all be found in and around Georgia — the state known for its peaches and now an increasingly booming film industry.
In 2001, four movies were made in Georgia; in 2013, that number shot up to 142. This upswing didn't happen by accident. Thanks to a 20% tax credit for productions spending over $500,000 in state, Georgia is quickly becoming its own little Hollywood — a good shake up for the status quo. In total, Georgia's film industry generated an estimated $3.3 billion in economic activity in 2013, a figure that puts it firmly on the map as a film location destination.
High-profile films shot in Georgia over the last two years include Fast & Furious 7, Dumb and Dumber To, 42 and The Internship — which used the Georgia Institute of Technology as a stand in for Google's campus.  
Image Credit: NerdLikeYou
Wander over to the south side of Atlanta and you'll find the site of the Hunger Games Quarter Quell — which in real life was home to the 1996 Olympics volleyball tournament. Head over to Turner Field where Clint Eastwood shot Trouble With the Curve. Or walk through downtown Atlanta which was used for high-speed chases in The Fast and the Furious, while the small town of Senoia was the backdrop for AMC's zombie-filled series The Walking Dead. Georgia landmarks are quickly becoming Hollywood mainstays.
Image Credit: WalkingtheWalkingDead
Atlanta's doing so well as a city-double that it can even pass itself off as Los Angeles. Recent scenes from Liam Neeson's Taken 3 were set in L.A. but shot in Georgia's capital.
So what kind of threat does Georgia present Los Angeles? In a nutshell: No industry is immune from disruption, and Georgia has more going for it than a discount. It would be a challenge to unseat the Hollywood throne, but it wouldn't be impossible.
The chinks in L.A.'s armour are already showing. Film L.A. announced a massive slump in the number of top 25 blockbusters shot there — down from 64% in 1998 to 8% in 2013.
Still there are disagreements about whether a film industry built on tax breaks benefits a state in the long term. The Economist reports that "a study in Louisiana found that for every dollar the state received in revenue from film production, it spent $7.29 in credits."
States like Louisiana and Michigan that also offered generous tax breaks had promising starts, but the absence of a wider film-making ecosystem meant they remained medium-sized players, picking over L.A.'s scraps. 
Lee Thomas, director of the Georgia Film, Music & Digital Entertainment Division, made a telling comment in Variety. One factor that helped Georgia beat North Carolina to hosting the second Hunger Games movie was Atlanta's 26 daily flights to L.A. — it doesn't hurt that Georgia is home to one of the world's biggest airports.
It looks like Georgia is determined to surmount those barriers, announcing the building or expansion of at least five major studios in 2013 alone. Among them is a 288-acre lot that's an outpost of Britain's legendary Pinewood Studios, home to the James Bond franchise.
The fact remains that while Georgia's success is impressive, the depth of Hollywood's film making infrastructure, its sound studios, critical mass of writers, actors and directors, as well as its highly skilled workforce, mean that although the barriers to entry have been lowered, they still stand. 
The odds might still be in L.A.'s movie making favor, but perhaps not forever.