How Not to Get Young People to Vote, in One Raunchy, Violent Video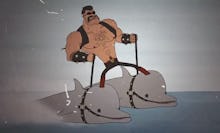 How do you inspire young, apathetic voters to head to the polls?
Meet Voteman, a crazed, muscle-clad superhero with the diplomatic skills of a South Park character, armed and ready to drag voters to the polling booths. 
The 90-second video, made by the Danish parliament, depicts a mustachioed, leather-clad man bashing and beheading his way through the young voting population in an attempt to encourage them to vote in the European elections starting May 22. The sexual and violent cartoon that was originally posted to the parliament's YouTube channel was labeled "offensive" and was taken down Wednesday, a day after its launch.
In the bizarre video, Voteman is seen having sex with five naked women before he rushes out to encourage people to vote, riding on a pair of dolphins. He then proceeds to rip the head off a young man who says he is going to skip the polls, throws a couple having sex on election day out the window, bed and all, and slaps around every other non-voter in town. 
Voteman's rage is fueled by his own failure to vote in a previous European election, and the tragic realization that he had no influence over key issues such as climate regulations, agricultural subsidies and the amount of cinnamon on his Danish pastry. 
The narration says, "Horrified by this, he decided he would dedicate his life to making everybody vote. So if you're not going to vote, don't try to run, don't try to hide, because he will find you. And he will make you vote."
"We are trying to inspire the very young," Morgens Lykketoft, the speaker of parliament, said before the video went viral. "A high turnout is important, so you use every method you can."
After a barrage of criticism over the cartoon's combination of sex and graphic violence, Lykketoft apologized, saying, "Many people whose opinions I deeply respect have perceived the cartoon from the EU Information Center as far more serious and offensive than it was intended — and believe it talks down to young people. I acknowledge that the parliament as an institution should be more careful in the future about what we put our name on."
Parliamentary elections will take place across Europe next week, where voters in each of the European Union's member states will elect representatives to the body. Danish voters will go to the polls May 25. Although Denmark's turnout for the last European elections in 2009 were close to 60%, above the European average of 43%, voter turnout in general has been steadily declining across Europe since 1979. 
While the crass, viral nature of the gross video is entertaining to some people, it sends a ridiculously condescending message that Millennials need politics packaged in a sexy, violent, cartoonish way to care about key issues. In 2012, Colorado's shot-taking, keg-stand "brosurance" Obamacare videos took the same dumbed-down approach to appeal to 20-somethings to sign up for the new national health care program using themes of sex, beer and other enticements. 
Although the Danish video is going viral, there are more appropriate ways to engage young people in intelligent political discourse and encourage them to vote than with images of dolphins, decapitations and group sex.