The One Picture That Sums Up the Situation in Turkey Right Now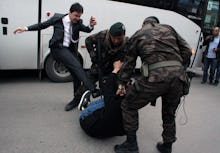 This is the picture that has rocked Turkey. In this photo, Yusuf Yerkel, adviser to Turkish Prime Minister Recep Tayyip Erdogan, kicks a protester held by special forces police members during Erdogan's visit to Soma, Turkey. Erdogan was visiting the western Turkish mining town of Soma after Turkey's worst mining accident, with nearly 300 people dead and another 100 people estimated to be trapped inside the mine.
Protests started when the prime minister made some bizarre comments. The only thing that could make this already fraught situation worse is callousness on the part of the government — and Erdogan fully delivered on that front.
"Explosions like this in these mines happen all the time. It's not like these don't happen elsewhere in the world," the prime minister said in a news conference, while families stood by to hear news of their loved ones.
Erdogan then proceeded to list century-old mining disasters to prove his point that accidents like this cannot be avoided. "I went back in British history. Some 204 people died there after a mine collapse in 1838. In 1866, 361 miners died in Britain. In an explosion in 1894, 290 people died there," he said.
Image Credit: AP
Protests erupted all around the town of Soma, where the mine is located. People on the street have taken to throwing rocks at the riot police and smashing windows at the local headquarters of Erdogan's AK Party. Similar demonstrations also broke out in Istanbul, Ankara and other cities, where the police fought back protesters with water cannons and tear gas.
Erdogan himself had a rough encounter with the angry crowd: After being heckled throughout his speech, he was surrounded by a mob of angry protesters when he tried to leave. Things got so bad that he had to take refuge inside a supermarket:
Four Turkish unions have called for a nationwide one-day strike to protest the poor working conditions that led to this disaster. "Hundreds of our worker brothers in Soma have been left to die from the very start by being forced to work in brutal production processes in order to achieve maximum profits," a statement from the unions said.
And they have a point. Turkey is infamous for its bad safety record. Back in 2012, the International Labour Organization ranked the country as the third worst in the world for worker deaths. And according to the Wall Street Journal, Turkey's mining disasters have led to 3,000 deaths and 100,000 injuries since 1941. Just last year, 279 people died from four different incidents.
Image Credit: The Wall Street Journal
There are also serious allegations that Erdogan's government blatantly ignored warnings regarding the Soma mine. Though the facility passed inspections in March, complaints about the lack of safety at the mine had persisted for some time. Erdogan's AK Party defeated a proposal last month to investigate the mine, with some lawmakers mocking the opposing CHP for the idea.
"From this catastrophe, we understand that the government has significant shortcomings in adopting rules and implementing them. This is the last wake-up call," said Faruk Logoglu, deputy chairman of the CHP. "We need to quickly come together in Parliament to take additional precautions."
Image Credit: AP
Turkey is already in turmoil. And there is a lot of speculation that this tragedy will spark a fresh new wave of protesters in this troubled political climate. Last year's demonstrations were revived briefly in March, although they died when the AK Party won local elections later that month. That is in addition to the corruption scandal plaguing the prime minister and backlash against his push to censor Twitter.
And Erdogan is already worried about what this bubbling rage and frustration might mean for his government. "There are some groups, extreme elements, that want to abuse developments like this one. I would like to reiterate that, for the peace and unity of our nation, it is very, very important not to pay heed to them," he said on Wednesday.
Coming off a wave of goodwill regarding his economic expansion, Erdogan has been mulling a presidential run in August. But he might have to reconsider that plan if the protesters' momentum continues to grow — and in the meantime, he might want to consider receiving some sensitivity training.