A Beautiful New Trend Is Helping Cancer Patients Overcome the Stigma of Hair Loss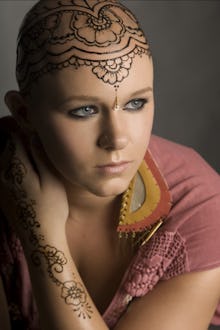 In the struggle against cancer, alopecia and plain-old aging, hair loss can be a stressful side effect that weighs on a person's self-confidence and can affect how he or she is treated by others.
One company is aiming to alleviate some of that stress with a therapeutic solution that is both beautiful and creative. Henna Heals is a Toronto-based company that now has artists all over the world. The company is hoping to help hair loss sufferers reclaim control over their bodies by drawing elaborate henna "crowns" on their heads.
Not only does the process give clients time to relax while being pampered, they also often indulge in self-reflection, which can be an important part of the psychological healing process. It also restores a sense of beauty and self-confidence. 
"Beauty itself is not what's important," Frances Darwin, the photographer who started Henna Heals, told PolicyMic. "It's the effect that feeling beautiful has and the way that people perceive you."
When people see a bald head, frequently their automatic response is to assume that the person is unwell, Darwin said. "Even if people don't say anything (which they often do) you can sense the pity, sorrow or concern. When you are rocking a henna crown, the perception of the public changes to: 'Wow, that's so cool.'" It opens up a conversation rather than inviting sadness and sympathy. 
Millions of people suffer from hair loss each year and not just people who have alopecia or are undergoing chemotherapy. By the age of 60, 65% of men and 80% of women will have noticeable hair loss.
Although Darwin has clients of all genders and ages, the majority are women, for whom hair loss is seen as far less acceptable in society than men.
"The application of the henna felt very therapeutic, not unlike having a massage," Jana Buhlmann, a Henna Heals client, told the Huffington Post recently. "My sense of self was very strong afterward: I was compelled to take selfies until the stain faded."
Darwin did point out that some pre-packaged hennas contain chemicals and preservatives that can cause burning and scarring. In other words, particularly in cases of chemotherapy patients or people with alopecia, it's best not to try this at home.
Image Credits:
Model - Munira; henna - Tarquin Singh; photography - Frances Darwin
Model - Daniel; henna - Olivia Darwin; photography - Olivia Darwin
Model - Maygan; henna - Olivia Darwin; photography - Katerina Shaverova
Model - K.; henna - Tarquin Singh; Photography - Tarquin Singh
Model - Diana; henna - Joanne Rumstein Ellis; photography - Katerina Shaverova
Model - M.; henna - Joanne Rumstein Ellis; photography - Frances Darwin
Model - Ashlyn; henna - Noofa Hannan; photography - Katerina Shaverova
Model - Karen; henna - Tarquin Singh; photography - Katerina Shaverova
Model - Melanie; henna - Tarquin Singh; photography - Katerina Shaverova
Model - Jennica; henna - Kyla Austin; photography - Katerina Shaverova
Model - Ana-Laura; henna - Tarquin Singh; photography - Katerina Shaverova
Model - Munira; henna: Tarquin Singh; photography - Frances Darwin