Colorado's Marijuana Industry Is Revolutionizing Classical Music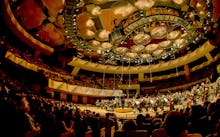 Rare is the stoner who gets high and listens to, say, Rachmaninoff. But in a bold move, the Colorado Symphony Orchestra is looking to give weed-music aficionados some more refined stoner music.
In a joint effort between the largest full-time professional orchestra in the Rocky Mountain West, the Colorado symphony, and the marijuana industry, comes the highly anticipated (sorry) series, Classically Cannabis: The High Note Series. Sponsored by the cannabis industry, this will be a set of classical concerts serving to raise money for the orchestra. It will kick off May 23 with events in Denver's SPACE Gallery, where guests are invited to BYOW (bring your own weed). That, at the very least, is something that festival-goers should be used to.
Image Credit: Getty
Edible Events Co., which looks to showcase Colorado's best within the culinary, cannabis and arts scenes, organized this concert series. Jane West, the owner, said that — counter to stereotype — cannabis is a legitimate industry made up of responsible business people who want to donate back to the local arts community.
"I'm hoping that this continues to mainstream use and continues to reduce the stigma attached with cannabis consumption in other parts of the country," she said.
But peaceful though the concerts are sure to be, the anticipation has been a little more turbulent. There has been quite a lot of criticism surrounding these concerts, with comments posted on the Colorado symphony's website announcing outrage in a number of forms. But the most noteworthy criticism has come from officials from the city of Denver itself, which wrote a letter to the symphony, stating, among other things, "the event, as advertised, could violate both City and State law."
The orchestra, which was in danger of shutting down a couple years ago, has obliged and made the events invitation-only. In a statement, they made clear that they still intended to make a fair profit from them. Anyone can attend Beethoven and Brews, though.
But the city clearly doesn't have much cause to be upset. This is yet another awesome demonstration of the marijuana industry's economic power. In just two months after marijuana was legalized in Colorado, the state earned more than $6 million in tax revenue, and Colorado Gov. John Hickenlooper predicts that the fiscal year's tax revenue will be $98 million. 
Meanwhile, counter to legalization opponents' fears about trafficking, crime in Denver has slightly declined since legalization. The industry is expected to bring close to $200,000 for the Colorado Symphony Orchestra — a notable sum considering the financial struggles the classical music industry has faced over the last few years.
When classical music patrons get high, everyone will benefit. Plans like these will likely have positive externalities on other local industries too. Case-in-point: Eric Giordano, who works at Domino's Pizza in Fort Collins, Colo., said, "Both the music culture and marijuana cultures are strong in Colorado, and a range of audiences I'm sure will attend."
Image Credit: Getty
Whatever the controversy, this is a brilliant illustration of how marijuana can enhance other industries. The venue may also want to make sure and include lots of snacks. Possibly from Domino's.