Sudan Will Execute a Pregnant Woman for Being Christian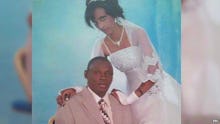 The news: This is the kind of story that sounds too absurd and horrifying to be real.
Meriam Yehya Ibrahim Ishag is a 27-year-old Sudanese woman who was raised an Orthodox Christian by her mother. In 2011, she married a Christian man and had a child with him; she is now eight months pregnant with her second child.
This week, she was sentenced to 100 lashes and execution by hanging — all because her absent father was Muslim.
Under Sudanese law, Ibrahim's religion is determined by her father's. Although she herself identifies as Christian, the government considers her as Muslim, and as such, has found her guilty of apostasy: the crime of abandoning one's religion, which is punishable by death. Since Muslims are not allowed to marry non-Muslims, Ibrahim's marriage to her Christian husband is also considered invalid, making her guilty of adultery — hence the 100 lashes.
During the court proceedings, the judge repeatedly denied Ibrahim's agency by referring to her by her Muslim name, Adraf Al-Hadi Mohammed Abdullah. He eventually gave Ibrahim three days to recant her faith, which she refused to do. 
"I am a Christian, and I never committed apostasy," Ibrahim said. She now faces the death penalty, most likely after she gives birth.
The background: Sudan has some of the worst religious freedom laws in the world. Since the 1980s, the country has been ruled by Sharia law; the ensuing clash with the mostly Christian southern part of the country is what led to the secession and creation of South Sudan in 2011.
Sharia law is imposed on both Muslim and non-Muslim residents of Sudan, while Christians have faced great persecution. According to a 2014 report by the U.S. Commission on International Religious Freedom, "Conversion from Islam is a crime punishable by death, suspected converts to Christianity face societal pressures, and government security personnel intimidate and sometimes torture those suspected of conversion."
Since the secession of the oil-rich South Sudan, the country has also faced turmoil and unrest. After a wave of demonstrations against the government's austerity measures, a student died last month after protesting the escalating violence in Darfur.
The response: While the court's ruling is in accordance with Sudan's Islamist law, observers note that Ibrahim's case is the first of its kind in the country. And Sundanese human rights activists are decrying the ruling as a gross violation of personal faith. 
"The details of this case expose the regime's blatant interference in the personal life of Sudanese citizens," Sudan Change Now, a youth group, said in a statement.
Numerous countries, including United States, Canada, the United Kingdom and the Netherlands, have called upon Sudan to reconsider Ibrahim's sentence. But perhaps the most scathing reaction has come from Amnesty International, which has reported the case from the start. 
"'Adultery' and 'apostasy' are acts which should not be considered crimes at all, let alone meet the international standard of 'most serious crimes' in relation to the death penalty. It is a flagrant breach of international human rights law," said Manar Idriss, an Amnesty International researcher.
What will happen next? Ibrahim's legal team is planning on appealing the court verdict within 15 days. They are hoping that international pressure and domestic protests will force a higher court to overturn the ruling.
In the meantime, Ibrahim remains behind bars with her 20-month-old son while her husband, who relies on a wheelchair, watches the proceedings from home. The judge has forbidden him from even entering the courtroom, let alone talk to his wife. 
"I'm so frustrated. I don't know what to do," said Daniel Wani, Ibrahim's husband. "I'm just praying."