America Is Facing a Shortage of One of Its Favorite Liquors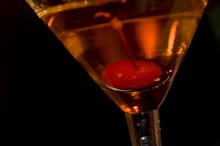 The news: Bourbon lovers, prepare to freak out. Distilleries will soon be unable to produce enough delicious booze to keep up with demand, and while bourbon producers have been aware of the problem for over a year, it may soon blossom into a full-scale shortage.
Write the makers of Buffalo Trace Whiskey:
"The bourbon boom shows no signs of letting up ... Despite the increase in distillation over the past few years, bourbon demand still outpaces supply. The overall bourbon category is experiencing 5% growth, but premium brands are up nearly 20% from last year. Bourbon must be matured in new oak barrels and Buffalo Trace ages many of its barrels for eight to ten years, and some over two decades. That's a long time to wait for a bottle of bourbon. Not to mention, with the amount of bourbon lost to evaporation over time, barrels are half empty after ten years. The increase in sales, coupled with the aging process and evaporation loss, leads to a shortage with no end in sight."
Distillers also warned that a projected two-year shortage in the number of new American oak barrels needed to properly age the whiskey will further impose constraints on supply. A shortfall in the lumber harvest thanks to a harsh, wet winter caused problems for loggers, meaning that the lack of barrels will persist for some time.
"There is definitely a shortage of barrels on the marketplace," Evanston, Illinois' Few Spirits founder Paul Hletko told The Spirits Business. "I have friends that have had to spend $100,000 on new stainless steel tanks to put their new make spirit into while they wait for new barrels. People have been talking about it for a few months, but the full pain is just starting to be felt."
The background: As Esquire pointed out, "We are living through a tremendous reversal in attitudes towards whiskey," with the liquor of choice 10 years ago being vodka. Now it's "a fetish object of the young, urban, and image-conscious" (you know, hipsters) and sales have spiked accordingly. Premium whiskey will be especially hard to find. Single-malt scotches, usually aged 12 years or more, have increased in popularity twofold over the past decade, while super-premium bourbon has tripled in sales. And the world is soaking up American whiskey as well, with exports rising from under $400 million in 2002 to $1 billion in 2013.
"And prices for older bottles are ballooning. In 2007, Eagle Rare 17 sold for an average of $57 per bottle, Macallan 18 for $132, and Pappy Van Winkle 15 for $47. Today, those same bottles are going for $337, $193, and a mind-bending $982 as demand fails to match up with supply."
Here's what that global demand looks like, courtesy of Quartz:
Bourbon 101: Bourbon is named after a county in Kentucky. The alcohol is an aged and fermented mix of water (preferably limestone-filtered water), at least 51% corn mash, and any other ratio of wheat, rye, and barley. As PolicyMic wrote, the resulting mix, sometimes called "white dog," is clear. It's only when it's added to fire-kissed white oak barrels which are stashed for a few years that bourbon gets its distinctive copper color and taste. Despite what you may have heard — and despite the fact that the spirit came from and was named for Bourbon County, Kentucky — bourbon does not have to be made in the Bluegrass State.
No matter where it's from, though, the results are delicious with smoky, sweet, spicy, and/or slightly fruity variations, depending on the brand. You can even get started with gateway brands saturated with honey, cinnamon, cherry, and apple flavors, among many others.
The big takeaway: Whiskey is going to cost a lot more, especially the premium stuff. It's highly unlikely anyone who really wants some will go dry — but they'll have to be prepared to shell out a lot more for the same product.
Esquire says to stick with established brands, avoid new releases, try cheaper whiskey, and hoard. Or maybe you could try and get ahead of the curve and try tequila, which has also seen growing sales in recent years. (For the record, I mean good tequila, not the stuff that comes in plastic bottles.)