Over 400 Million People Live in Poverty in India — Can Their New Leader Change That?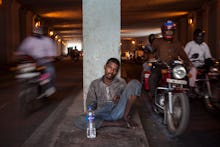 The world's largest election to date just ended. India's new prime minister will be Narendra Modi from Hindu nationalist party the Bharatiya Janata Party (BJP), beating out Rahul Gandhi from the Indian National Congress, who many thought was the heir apparent to the position.
Over 550 million votes were cast during the five-week-long general elections, which ended on May 12. The votes are still being tallied, but the BJP already has an absolute majority with 283 seats in India's lower house of parliament out of 543 total, virtually guaranteeing that they will usher in their candidate as the new PM. These elections were unprecedented, with a record voter turnout rate of 66% (2012 U.S. voter turnout was 58%), including an influx of young people casting ballots for the first time.
Modi is about to helm the world's second most populous country, and Indians will be looking to him to fix many of the country's societal dynamics and economic struggles. On the eve of Modi's impending win, here is a look at what he will inherit along with the PM appointment.
Comprising more than 1.2 billion people, India is the world's fourth largest economy. Four hundred million Indians live in poverty, a number much greater than the U.S. population, and 217 million of India's poor are children. Forty percent of all the world's impoverished children live in India.
The average annual per capita income decreased in recent years. In 2011, the number was $1,410 and in 2013, a Gallup survey reported that the annual median income per capita was $616.
An estimated 300 million people live off the national electrical grid. Those who live on the grid face constant service disruptions.
You are more likely to die in a bombing in India than Afghanistan. Not only is India the sixth most dangerous place in the world, but the chances of getting hit by a bomb in the country is higher than in war-torn Syria or Afghanistan. Only Iraq and Pakistan rank worse.
Primary education has progressed by being universalized. But only 10% of the working-age population has completed secondary education.
India's new prime minister undoubtedly has his work cut out for him. With such a densely populated and impoverished country to lead, improving economic instability as well as the country's infrastructure will be challenging, even with the majority lower parliament in his pocket.