Missouri Will Execute a Man This Week – But Not if These Groups Can Help It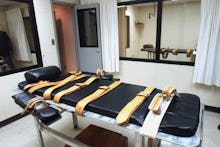 On Monday, anesthesiologist and physician Joel Zivot traveled to Potosi, Missouri to perform a somewhat peculiar medical exam. He was not in a hospital, but a prison; he was not examining a patient preparing for procedure, but an inmate preparing for execution.
Russell Bucklew, 45, has a date with an executioner on May 21 at 12:01 — one minute past midnight. Not 12:00 or 12:02, but 12:01. The reason for the strange time is unknown, according to Zivot. There is "no rhyme or reason to it," no logical explanation offered, he said. It's just one of many details surrounding yet another execution shrouded in secrecy.
But in some ways, this execution is different, because multiple factors have lined up to spur unprecedented action from organizations and news outlets demanding information they feel they are more than owed.
Perhaps the catalyst was the April 29 botched execution of Clayton Lockett in Oklahoma, which triggered a national debate about lethal injection and the constitutional protection against cruel and unusual punishment. Currently, states are not required to cite the source of drugs used. Because of sanctions from European companies who want nothing to do with capital punishment, the drugs often come from compounding pharmacies and are not FDA-approved. Their efficacy, therefore, is questionable, and there is building evidence that lethal injection is cruel, as the inmate may feel and witness his own horrific death but be prevented from showing it.
Days after the Oklahoma execution, the American Civil Liberties Union of Missouri (ACLU-MO) and the Missourians for Alternatives to the Death Penalty sent a joint letter asking Missouri Gov. Jay Nixon to enact a moratorium on executions pending a full investigation into protocols. On May 15, ACLU-MO teamed up with The Reporters Committee for Freedom of the Press and Chris McDaniel, a St. Louis Public Radio reporter, to file a lawsuit against the Missouri Department of Corrections for withholding public information regarding the state's recent executions.
Demands for information continued to mount. Recently, the Guardian, the Associated Press and three Missouri newspapers filed a joint lawsuit against the Missouri Department of Corrections, citing violation of First Amendment rights. Richard Dieter, executive director of the Death Penalty Information Center, told the New York Times, "This is the boldest and biggest attempt to have the states reveal the sources of their drugs."
There is another factor contributing to the anger over Bucklew's case: his medical condition. He has a birth defect that causes malformed vessels to form in his head, face and throat, partially blocking his airway. His attorneys argue that the tumors could block the execution drug, pentobarbital, from circulating properly, which creates "a very significant risk that he will die a tortuous death in violation of the Eighth Amendment," they wrote in a press release.
Zivot's medical report reads, "During an execution, Mr. Bucklew will be at great risk of choking and suffocating because of his partially obstructed airway and complications caused by his hemangiomas. … To my knowledge, Missouri's execution protocol provides no contingency for a failed execution, or a situation in which the prisoner starts gasping for air or experiences hemorrhaging."
Zivot had traveled to Missouri at the request of Bucklew's attorneys. He was responsible for determining if Bucklew's life could be saved in the case that the execution does not go as planned, that Bucklew could be resuscitated if necessary.
Upon his arrival, two guards escorted him, with Bucklew, into a cafeteria-like room with a long table. "I would have preferred to examine him in the infirmary, but again, that, for some reason, is not allowed," Zivot said. Bucklew was handcuffed behind his back, but Zivot needed him to lie down, so he asked the guards to cuff him in front, and they obliged. "There is a lot of discretion here as to what is allowed and what is not allowed. It seems to be changeable, to a certain degree," Zivot said. (Image: Zivot.)
Bucklew, who is convicted of a 1996 murder, was "very cooperative" throughout the hour-long session, Zivot said. "I was not afraid of him. If anything, he may have been wary of me. In a normal doctor-patient relationship, the patient is in charge. … Here is a person who has none of that. His body does not belong to him."
"At some point, he talked about remorse for what he did. And I said, 'Look ... we're really here to determine your medical state.'" Bucklew did have one question for the doctor. "He asked me what his corpse would look like after he died."
In order for an execution to be stayed, it must be proven that it would violate the Eighth Amendment, that the procedure would create substantial risk of serious harm. But this is completely subject to interpretation. "We don't know what is 'substantial,' what is 'risk,' what is 'serious,' and what is 'harm,'" Zivot said. "They're making it very difficult to get information."
In the most recent development, Bucklew requested that his execution be videotaped. He, too, must realize that it's time to raise the curtain on the death penalty. 
***
READ: It's All Riding on This Doctor to Prevent Another Botched Execution This Month
READ: Executioners' Reflections Reveal a Twisted Side of the Death Penalty
Contact or tweet Laura with thoughts or questions.