One American City May Soon Have One of the World's Highest Minimum Wages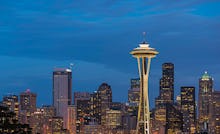 The news: It was a far-fetched dream, but now it's officially dead: On Sunday, Swiss residents voted down a measure that would have raised the country's minimum wage to $25 per hour — the highest in the world. And with that, Seattle is now poised to have one of the world's highest mandatory minimum wages.
The Swiss vote wasn't even close. According to the Swiss government, the proposal was defeated by a whopping 76.3%. "It's a strong sign to Switzerland as a center of employment," economy minister Johann Schneider-Ammann said at a news conference in Bern. "Accepting the initiative would have led to job cuts in economically weak, rural areas."
If the measure had passed, the Swiss minimum wage would have been double that of some other European countries. Switzerland currently has no pay floor, but the median wage is $37 per hour, and only 1 in 10 full-time workers — 330,000 people — currently make less than the proposed $25 per hour minimum wage. 
While the country enjoys a high standard of living, it also has a very high cost of living; Zurich and Gevena are the second and third most expensive cities in the world.
Other parts of Europe: Recently, U.K. Prime Minister David Cameron raised the minimum wage to £6.50 ($10.88) per hour and starting in 2017, Germany's pay floor will rise to €8.50 ($11.65). Minimum wage also gained international attention on May 15 when workers in over 30 countries organized the biggest fast food strike in history, demanding $15 per hour.
Image Credit: The Atlantic
Coming stateside: With the Swiss measure soundly defeated, the world's highest wage will remain in Australia, where full-time workers are guaranteed to make at least $16 an hour. But second place is likely to fall on American soil — in the city of Seattle.
Earlier this month, Seattle Mayor Ed Murray announced a deal with local labor leaders and business organizers to raise the city's minimum wage to $15 per hour. At $9.32, Washington state already has the highest pay floor in the world, but Seattle's move will raise the pay of 100,000 workers in the city.
Big businesses that don't offer healthcare will have three years to adjust to the new minimum wage, big businesses that provide healthcare will have four years, while small businesses that provide health care or whose workers receive tips have five years. All other businesses have seven years. Once the $15 level is achieved, any further raises will be linked to cost-of-living increases.
What about the rest of America? With the Congress in perpetual quagmire, a state-by-state adoption of higher minimum wage is more likely than a federal plan. Earlier this month, Hawaii joined Connecticut and Maryland to become the third state this year to raise its minimum wage to $10.10 per hour — the amount prescribed by congressional Democrats. Already 34 other states have introduced similar legislation for higher pay.
For now, don't expect a lot of other cities to go as high as Seattle — for now $10.10 seems like a doable option. But the ongoing introduction of state minimum wage laws will hopefully put the much-needed pressure on Congress to stop this election year showdown — and actually start talking.