The Inspiring Reason Hundreds of French Schoolboys Are Wearing Skirts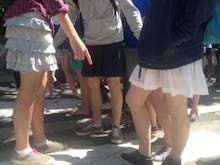 Well, you can't accuse them of skirting the issue; last Friday, to protest sexism, male students in the western French city of Nantes turned up to school in skirts.
Hundreds of boys across 27 schools in the city took part in the "Lift the Skirt" campaign, which was thought up by the students and backed by the education ministry. Students who didn't feel like baring their legs showed support by wearing stickers that read, "I am fighting against sexism, are you?" The initiative was born to "take action to promote awareness and change perceptions," amid a "feeling of daily discrimination" against female students. 
The campaign follows a report from France's education ministry, published last summer, which found that teachers treat boys "in a preferential manner while remaining convinced they are being totally fair," paying less academic attention to girls and assigning them caretaking roles in class.
The movement sparked a counter-protest, with members of conservative groups criticizing the campaign as "official propaganda by the education department" and questioning whether the day is "useful." But participants in the "Lift the Skirt" demonstration insisted their involvement was voluntary, and judging from the many pictures posted to social media, it looks like they had a pretty good time standing up for equality. 
Protests against the school initiative — which administrators assured parents was not a requirement — underscores a polarized political climate in France.
Gender identity is a hot topic in the country at the moment, following the introduction of a new gender equality curriculum earlier this year, which teaches, among other things, gender theory and LGBT tolerance. The curriculum changes spurred rumors that France's socialist government was trying to foist gender theory — the idea that gender is a social construct rather than a biological difference — on its children, leading to boycotts in January.
It's also worth noting that the protest against the "Lift the Skirt" day was spearheaded by the "Manif pour Tous" (Protest for All) group, an organization that has been a vocal opponent of France's marriage equality movement.