This Comedian Just Owned All of the Sexist Critics of Her Red Carpet Look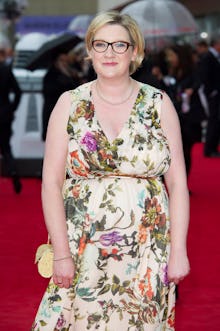 Last week, comedian Sarah Millican wrote a fabulous essay in response to the rude and frankly sexist criticism of her red carpet look at the 2013 BAFTA Awards. 
In the piece, Millican slammed the Twitter trolls who had mocked both her weight and her dress (the latter deemed "nana-like" and "disgusting"), reminding the world that she's a comedian — not a model. ("I'm sorry," she wrote. "I thought I had been invited to such an illustrious event because I am good at my job.") 
Millican also vowed to wear the same dress should she attend the BAFTAs again, in defiance of those who judged her appearance rather than her work. And on Sunday night, she finally got the chance to make her point.
We thought this story couldn't have gotten any better, but it just did.
Millican was invited back to this year's BAFTA ceremony in London, but she was unable to attend due to a conflict with a stand up performance in Buxton. Nevertheless, she stuck to her word and wore the John Lewis dress on stage during her show.
Though Millican's nominated The Sarah Millican Television Programme lost out on the award for Entertainment Performance, her graciousness and sense of humor remained in tact throughout the evening:
Millican was moved by the Buxton audience's response to the dress as well:
Millican's original essay went viral, and with good reason: We need to stop treating women's bodies as constant fair game for criticism, and we need to value women based on their accomplishments rather than their looks.
This is the perfect ending to a story that has resonated with thousands of people. Millican may not have taken home a trophy, but she still won.
Image Credit: Giphy