15 Best Cities for Creative 20-Somethings Other Than New York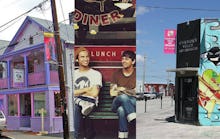 Being an artist in America doesn't have to mean living in a shoebox on a coast with nothing but the pennies you make at your day job to support an artistic endeavor. Contrary to popular lore, the U.S. is home to many artistic cities aside from the requisite stops of New York and Los Angeles.  
To highlight the other thriving creative locations on the map, here is a list of great American cities for the young and artistically inclined. Into the livability quotient, we factor housing, artistic community, resources and activities. There is no guarantee that these cities will offer surefire inspiration, but they do supply some great ingredients for an artistic life.
1. Oakland, Calif.
For those looking for the laid back Bay vibe without paying San Francisco rent prices, Oakland is its edgy cousin across the water, the figurative Brooklyn to San Francisco's Manhattan.
Tech startups love Oakland. It's also the birthplace of tons of hip-hop: think Too $hort and E-40 to Kreayshawn. And with Oakland Art Murmur, the monthly citywide art-heavy street party, which attracts 20,000 people, Oakland is a serious destination for artists. Local artists' work is displayed anywhere and everywhere: from citywide events like Art+Soul and the Oakland Art Fair to buildings covered in incredible mural-scale art. 
2. North Adams, Mass.
Does a two-bedroom apartment for $450 a month sound ideal to you? North Adams, Mass., a former industrial center and mill town tucked away in the Berkshires, is home to painting, photography, pop-up performances and one of the largest contemporary art museums in the world (at over 600,000 square feet), the Massachusetts Museum of Contemporary Art.
After Sprague Electric closed in 1985, the city's economy became depressed and people fled the already-isolated city. But now, a small town resurgence means there are nearly 21 art galleries and several hundred artists occupying this quaint Massachusetts' town, making it an unearthed gem in the Northeast.
3. Miami, Fla.
Miami may be best known for its club scene, skimpy clothes, proximity to Latin America and beaches, but it's also home to the enormous and celeb-studded contemporary art festival, Art Basel, and Wynwood, a neighborhood with the largest, most impressive collection of street art in the United States.
The formerly abandoned warehouse district also offers delicious food, art galleries and coffee shops. Each building is beautifully decorated with street art commissioned by some of the world's top graffiti artists. With sunny skies, a booming art, music and tech scene, you won't even care that rents and utilities are kind of high.
4. Austin, Texas
Austin is well known as a place to live easy and cheaply, to "Keep It Weird" (the city's unofficial motto), to listen to music and dine from one of its 1000-plus food trucks. These are artistic ingredients if there ever were some. 
The city's official tech and arts communities are also hotter than ever: South-by-Southwest (SXSW), the creative and tech festival to end all others, calls Austin home each year. And so does the music fest Austin City Limits. While art museums and galleries are taken seriously, it's music that fuels the self-proclaimed Live Music Capital of the World.
5. Portland, Ore.
Portland was Brooklyn before Brooklyn was Brooklyn, and the Williamsburg of Oregon is Portland. It's often said that Portland is the place where young people go to retire. (Twenty-somethings are chronically underemployed in Portland but, then again if No. 1 goal was to be employed, we'd all be living in North Dakota.)
Artists like The Decemberists, YACHT, Blind Pilot and the Thermals emerged out of Portland's music scene. And even though it's the butt of endless Portlandia jokes, quirky shops like Voodoo Doughnut, countless breweries, local boutiques and cheap rent still give the promise of the post-college creative's dream some chance at reality.    
6. Hudson Valley, N.Y.
Hudson Valley towns — Kingston, Hudson, Newburgh, Rosendale, Beacon and more — are experiencing an artistic renaissance, or a Williamsburg-ification if you ask the New York Times. The area is close to New York City, but you'd never know it from the inspiring scenery.
Nestled in rolling hills, towns with industrial pasts (think: Walkway Over the Hudson) are converted into creative centers (think: Dia:Beacon). For example, the Basilica Hudson, in all 18,000 square feet of the former glue factory, now serves as a performance space for ska concerts, avant-garde movies, art exhibits, filming and recording. With farm-to-table locavore, sustainable, organic food, Brooklyn-y bars and yoga studios, the Hudson Valley's city comforts, affordable rent and countryside locale have made it a petri dish for creative thought for those looking to leave New York City.
7. Chattanooga, Tenn.
Where Nashville revels in its big city appeal, Chattanooga, once one of the country's filthiest industrial cities, now takes comfort in the charms of its rolling hills and vibrant art community. Artspace and Artsbuild are considering plans to turn abandoned buildings into low-income housing for Chattanooga artists.
Street art is taking off in Chattanooga thanks to pioneering artists like Seven, but the music scene is well-developed. There's even a citywide typeface and extensive green initiatives, leading to new media attention, too. 
8. Louisville, Ky.
Sure, Louisville is a mecca for sports fans and those trying to break into sports media. It's even a hot tourist destination now that Lonely Planet named it the top U.S. travel destination of 2013. It's also land of the $575 per month for a two-bedroom rent, which means young artists are sniffing it out.
Germantown's warehouses, previously tied to tobacco production, are now home to Louisville's creative class. Official citizens of Bourbon country don't have to worry about bars closing early or a dearth of festivals like the Lebowski Fest. There are dozens of concert venues, which birthed band My Morning Jacket, among others, and quirky contemporary museums and galleries like the work on display at Hotel 21C.
9. Nashville, Tenn.
Nashville is best known for the glitz and glam of the country music celebrities who have called it home. However, East Nashville, sometimes lamented as a hipster haven and otherwise lauded as a major culinary hot spot, has firmly established itself as the creative enclave of Tennessee's capital.
The food scene is on the rise: Charleston's critically acclaimed Husk now serves its high-end southern fare in the city. The music scene is almost unparalleled for honky-tonk bars and country music venues. With scores of restaurants, bars, art galleries and the fact that rent prices are still affordable, it's time to move to Nashville while the getting's good. 
10. New Orleans, La.
Post-Katrina New Orleans offers an active arts scene with flamboyant personalities, especially in artsy neighborhoods like the Marigny and the Bywater. Kooky public art is everywhere and Hollywood studios are shooting their films in NOLA. Plus, open containers are kosher and of course, it's the home of Mardi Gras and Jazzfest.
But there are also other arts-centric events like Dirty Linen Night, where the Warehouse Arts District closes for gallery crawls and galleries dole out dirty rice, and Arts for Arts' Sake, which draws more than 30,000 people.
Ultimately it's the "communitarian sensibility" of living in The Big Easy, a city unapologetic for its idiosyncrasies that produces great art and has a distinct bayou flair. 
11. Detroit, Mich.
Detroit's in pretty bad shape. Entire blocks are empty and houses can be bought for $30,000. But artists are making lemonade out of lemons, and the art scene is taking off.
Rents are at rock bottom and artists are taking cheap residences and turning them into work/living spaces. Artists like Tyree Guyton, who's been finding objects and attaching them to decaying homes along Heidelberg Street, are using the now blank and dilapidated city as their canvas.
And institutional art hubs like the Museum of Contemporary Art Detroit and the Detroit Institute of Arts and organizations like Art Detroit, along with a plethora of galleries, are boosting their efforts to support the vibrant scene. 
The literary arts scene is taking off, too. Currently, a writer's residency program "Write a House" is taking applications for writers to live in a renovated home for free.
12. Pittsburgh, Pa.
Pittsburgh gets significantly less love than Philly does. It's a city with an iconic skyline of smokestacks, a symbol of the history of industrial America. But young artists are flocking to the Steel City to take over now abandoned warehouses and factories and converting them into art and performance spaces.
Art infrastructure in Pittsburgh is extensive. There's the Mattress Factory, featuring James Turrell's works, Unsmoke Systems' auditorium gallery and classroom studios and an Industrial Arts Co-Op, among other galleries, arts organizations, performance collectives and a growing electronic music scene building out Pittsburgh's creative community. 
13. Asheville, N.C.
Somewhere in the foothills of North Carolina's Blue Ridge Mountains sits Asheville, a music mecca and town of only about 85,000. Best known for its indie music scene, this Appalachian city has made itself the "inexpensive bluegrass capital of the world," drawing acts like The Avett Brothers, The Mountain Goats, Broken Social Scene and M. Ward.
The scenic town is home to modern-day hippies and hipsters looking for a sanctuary in the Southeast, and provides loads of boutiques, galleries, cafes with local food and live performances featuring banjos and mandolins. 
14. Providence, R.I.
While Providence is home to Brown and the Rhode Island School of Design, there is also a vibrant, underground and organically growing arts scene.
Organized into collectives, Providence's artists are proud to be a part of a city that hasn't finished growing yet. AS220 helps artists find exhibition and workspace in historic downtown buildings. Events like Gallery Night and Waterfire and regular street performances from Big Nazo lead the scene and create stages for young artists to thrive. 
15. Iowa City, Iowa
The Iowa Writers' Workshop at the University of Iowa in Iowa City draws hundreds of aspiring writers to earn MFAs to the Midwest. Thanks to historic alums, professors and visitors — literary legends from Dylan Thomas to Robert Frost have walked the campus — the UNESCO City of Literature has a boast-worthy past and present. 
If you get tired of playing around with words, the Iowa Arts Festival and Iowa City Jazz Festival bring hundreds of local and national artists to Iowa City each year.
Correction: May 28, 2014 
An earlier version of this article misidentified the origin of Chattanooga's "Gig City" nickname. The name stems from Chattanooga's internet capabilities, not its music scene. Additionally, Artsbuild and Artspace are not currently converting buildings to residential housing.