Why Pennsylvania's Gay Marriage Ruling Is Bigger Than Just the State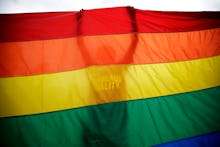 The news: What do Idaho, Utah, Michigan, Virginia, Oklahoma, Texas, Oregon and Pennsylvania have in common? They are all the states that have overturned the ban on same-sex marriage since last year's landmark Supreme Court ruling. Pennsylvania is now the 19th state to allow gay marriage, the latest state that has fallen to an onslaught of pro-gay marriage legal rulings sweeping the nation. 
U.S. District Court Judge John E. Jones III overturned the state's marriage ban, declaring it unconstitutional. Multiple same-sex couples sued the state for the right to marry in Pennsylvania or for gay marriages from out-of-state to be recognized by the court. In his statement, the judge, who was appointed by former President George W. Bush, said, "We are a better people than what these laws represent. It is time to discard them into the ash heap of history." 
The domino effect: Tuesday's decision came only 24 hours after an Oregon judge struck down that state's gay marriage ban, explaining that the reasons for discrimination on the basis of sexual orientation don't relate in any way to government interest. "I believe that if we can look for a moment past gender and sexuality, we can see in these plaintiffs nothing more or less than our own families," Judge Michael McShane said. "Families who we would expect our constitution to protect, if not exalt, in equal measure."
Seven days ago, the state of Idaho landed a victory for gay and lesbian residents as well, overturning the same-sex marriage ban. The judge who presided over that case said, "Marriage is a fundamental right of all citizens, which neither tradition nor the majority may deny."
Just a few days earlier, on May 9, Arkansas Judge Christopher Piazza, invalidated a 2004 voter-approved constitutional amendment banning same-sex marriage. Judge Piazza's statement concluded with a reference to the 1967 decision to overturn the ban on interracial marriages in Virginia. "It has been over 40 years since Mildred Loving was given the right to marry the person of her choice. The hatred and fears have long since vanished and she and her husband lived full lives together; so it will be for the same-sex couples. It is time to let that beacon of freedom" Piazza writes, "shine brighter on all our brothers and sisters. We will be stronger for it." 
What's going on here? A ripple effect from the Supreme Court's 2013 ruling that invalidated sections of DOMA has amplified. Last year, only eight states legalized gay marriage. But 2014 is proving to be a victorious year for same-sex marriage. And after Tuesday's decision in Pennsylvania added to the list of successes, it is evident that decisions to overturn these laws is a movement that will not be slowing down anytime soon.