The Powerful Way Alumni Are Fighting Back Against America's College Rape Crisis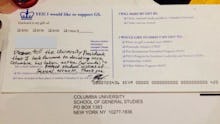 As students around the country don caps and gowns this week in a last hurrah of hungover college pride, many alumni are feeling less enthralled about their alma maters. 
With 55 colleges and universities under federal investigation for sexual violence-related violations of Title IX, a federal law prohibiting sex discrimination in college, disgruntled graduates are starting to put their money where their mouth is. Or rather, not putting it. Alumni from schools all over the country are refusing to donate money until their implicated institutions prove that they're dealing appropriately with the culture of rape and sexual violence on their campuses. 
In a striking example of this attitude, one alumnus or alumna returned a donation card to Columbia University blank except for this note: "Please tell the university president that I look forward to donating once Columbia has taken action (not words) to protect student victims of sexual assault."
Image Credit: Jezebel
Columbia has been one of the more prominent examples of universities not acting swiftly and strongly enough to reports of sexual violence. In recent weeks, student vigilantes have been distributing lists of alleged sexual assaulters and scrawling their names on bathroom stalls. This happened after 23 students from Columbia and Barnard filed a Title IX complaint accusing their schools of "systematic mishandling of assault claims and mistreatment of victims." The university also misfired last month when a "sexual violence prevention" cake, replete with piped icing and sugar rose, appeared in one of the school's dining facilities.
Also known as the Patsy Mink Equal Opportunity in Education Act, Title IX covers all educational activities at schools that receive any federal funding. It exists to prevent sex-based discrimination and has historically been most effective in cases of sexual violence and women in sports. 
But Columbia isn't the only college that could see its donations dampened by disgruntled alumni. Graduates of Tufts have launched a Change.org petition of their own urging alumni to withhold support until the school complies with Title IX. 
"Tufts provided me a world-class education, some of my fondest memories, and the most welcoming of homes for four years," alumnus Jack Miszencin writes in the petition. "However, if the administration does not start taking the issue of sexual assault seriously, I will no longer be able to support Tufts (financially or otherwise)." Alumna Rebecca Ross Russell added, "I cannot believe that literally a decade after working on a redesign proposal for the sexual assault policy at Tufts, not a thing has changed. You absolutely will not be getting my money until there is drastic change in the policies and respect for your students!"
Alumni from Harvard, Brown, Occidental College, Dartmouth and Williams College — and, no doubt, many more — have also closed their checkbooks until they see their alma maters take better action over cases of sexual assault. 
While these withheld donations may seem negligible compared to the many millions these universities raise each year, they make an important point by speaking in the schools' own language. As Jaclyn Friedman explained at Time, "When it comes to addressing campus rape, the financial incentives for schools are inverted: schools that succeed at suppressing victim reporting benefit from the impression that they don't have a 'rape problem,' while the schools that encourage reporting risk a bad reputation and drop in donations."