#BringBackOurGirls Misses the Real Story About What's Happening to Nigeria's Boys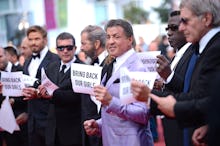 Academy Award-winner Anne Hathaway joined a rally in Los Angeles last week to protest against Boko Haram's kidnapping of more than 300 schoolgirls in Chibok. Grabbing a megaphone, Hathaway passionately claimed that the kidnapped girls represent the 5% of Nigerian girls able to seek out an education.
But she's wrong: While gender inequality is certainly a problem in Nigeria, it is absurd to suggest that only 5% of girls in Nigeria receive education. According to the World Bank, female literacy for Nigerian girls aged 15–24 is at 65%.
Hathaway is one of the many Hollywood stars and other western voices that have helped paint the tragic story of Boko Haram's kidnapping as a story about gender, perpetrated by a group that targets young girls in particular. But anyone with any understanding of Boko Haram would know that they certainly don't spare men or boys. The exact number of male student casualties is unknown, but the number is in the hundreds. Boko Haram has also killed a total of 171 teachers in Borno and Yobe states.
Image Credit: AP. A candlelight vigil for the missing schoolgirls.
The framing of Boko Haram's insurgency as one that is part of a war on girls and women casts Boko Haram as the Taliban and the missing schoolgirls as Pakistani education advocate Malala Yousafzai. This story has been reinforced by Fox News and, predictably, by pundits like Ayaan Hirsi Ali. But this frustrating narrative has been reinforced by the well-intentioned too.
Last week, Jon Stewart delivered a scathing reproach to Boko Haram during an episode of The Daily Show, saying that compared to a teenager who knows that her desire for an education could get her dragged into a snake-infested jungle to be sold as a bride by some demented, stick-chewing cartoon villain, but still gets up and goes to class every day fully aware of that danger, compared to their courage, I'd say Boko Haram is a bunch of little girls — but you know what, you don't deserve that compliment."
He pulls from a broad-brush narrative that is, sadly, a familiar example of the western media's narrative about Africa at large. Stewart makes it sound like this is what normal life looks like for Nigerian schoolgirls: a life avoiding being sold as brides, and snake-infested jungles, when this is actually not the case.
The trouble is that when high-profile celebrities use their large platforms to make these claims, it becomes a new truth. Take Hathaway's argument about girls' education in Nigeria. Even though this claim is easily refuted, Nigeria is now a country where 95% of the girls aren't able to get an education, because Anne Hathaway said so.
Image Credit: AP.
But the missing school girls aren't Malala, Boko Haram isn't the Taliban and Nigeria isn't Pakistan. And when the narrative is framed this way, it ignores the fact that Boko Haram has been killing schoolboys in huge numbers for quite some time now. The group is not just trying to bar young girls from "Western education" — they don't want anyone to get a "Western education."
Back in February, Boko Haram killed 59 schoolboys between the ages of 11 and 18. Last September, they killed 50 young men between 18 and 22 as they slept in their dorms. Last June, they killed 60 schoolboys between the ages of 10 and 16. Schools have been their targets for the last year, and the boys are not spared.
Boko Haram also recently issued a threat that they were going to kidnap some schoolboys and force them to marry the kidnapped schoolgirls from Chibok. But that hasn't been what's splashed across international headlines. 
The global spotlight has meant an almost unanimous condemnation of Boko Haram, but that anger should be informed by accuracy and facts. Of course, the group's atrocities are horrific, but a sensationalized picture of the group steals the focus from the real situation at hand. After all, those schoolgirls are still alive, and their safe return has yet to be secured.
Image Credit: AP. Martha Mark holds up a photo of her daughter, Monica, one of the kidnapped students.
As the world's short attention span turns away from #BringBackOurGirls, it's important to remember that ultimately, this is a story about human lives at stake. And the very least that the victims of Boko Haram are owed, boys and girls alike, is a fair and accurate story, rather than one tailored to fit an appetite for shocking headlines.