A Breakout Indonesian Pop Star You've Never Heard of Is Shattering Pop Music's Asian Bias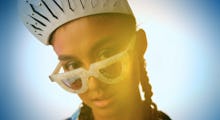 It's unusual for an international pop star to begin her career with a children's album called The Meow, but, at age 6, that was what Indonesian pop sensation Agnes Monica Muljito (better known as Agnez Mo) needed. Turns out it was a strategic move. In the two decades since, she has become the biggest pop star in Indonesia. She's won both critical acclaim and 83 major awards, making her one of the most decorated Indonesian artists of all time. She's so famous, in fact, that some Indonesian music websites have sections simply titled "Agnez Mo." But if you asked about her in America, nobody would know her name.
All that is changing with a song called "Coke Bottle."
"Coke Bottle" is a quiet revolution. It's a sizzling collaboration with Timbaland, who is slated to produce Mo's international debut. In the two months since MTV premiered the hypnotic new video, "Coke Bottle" has rocketed to almost 5 million views on YouTube. If you look at Mo's social media, it's thronged by excited American fans who seem totally confused that they've never heard her before when Timbaland, king of American pop, has championed her. The two have been in the studio, reportedly working feverishly on a global pop masterpiece. She's been tight-lipped about the release date, though, because she wants her international debut to be unforgettable.
If she seems cautious, that's because there's a lot more riding on this than a No. 1. Agnez Mo is our best chance yet to reverse the stigma against Asian women in American pop.
"Coke Bottle" is an apt title: Coca-Cola is a globally recognized, globally loved brand (cancer risk aside), and Mo's song is positioning her as the same. It seamlessly straddles the line between danceable pop and sexy R&B. Though the song came out last year, the video seems timed to build buzz around Mo in preparation for her much-anticipated American debut in which she sacrifices absolutely nothing of her heritage. Mo is very consciously taking down Asian stereotypes and holding onto her culture. While she sings about her curves in the "Coke Bottle" video, she's wearing a kebaya, a traditional Indonesian blouse-dress. She's sporting it herself rather than letting an American pop star appropriate it for her.
That's because, when she first left Indonesia, she was told that Indonesian pop stars can't make it out of Asia. "When I said I want to win my first Grammy, I want to go international, they started thinking how arrogant I was to even say that," Agnez told Global Grind. But Agnez, with the same ferocity that has kept her reigning over the Indonesian pop scene for as long as she's been alive, decided to devote the biggest phase yet in her career to proving the Asian bias wrong. "I wanted to show them that yes, I'm from Indonesia. I never said that it's going to be easy but once you set your goal, you kind of just have to believe and try to make it happen," she told DOPE Magazine.
If Mo does pull it off, she'll be one of the few Asian women to truly make it in American pop music. For decades now, "Asian culture" has been conflated and appropriated. For almost any music fan, coming up with a shortlist of similar acts to Agnez would be a massive struggle; she's more readily compared to the background dancers in Avril Lavigne's "Hello Kitty" video or Gwen Stefani's Harajuku Girls, or perhaps Katy Perry in a geisha costume on a good day. The biggest hit out of Asia in the past few years was Psy's "Gangnam Style," and that was largely because he fit the mold of the Asian clown, a trope that has been around since white actors were putting on yellowface.
Asian men in music — and for that matter, in film and television as well — are usually forced to play into the racist niche of being a punchline, while Asian women are fetishized, demure and subservient. Some Asian singers are challenging the stereotypes, and artists like Malaysian crossover sensation Yuna have broken that tired mold. But nobody has achieved the crossover success Mo is about to attempt.
But if anyone can do it, it's her. She is an undeniable star with incomparable dominance in her home country and a voice that works in any language. In her transformation from Agnes Monica to Agnez Mo, she's revealed an innate talent for R&B and hip-hop, genres where women are increasingly expected to have swag in a way Asian women aren't usually allowed in conventional pop. The nature of the music prevents her from turning into a silent, sexualized prop. But that's Mo's career in a nutshell. Since she could speak, she's been calling on the world to listen. She's grown up a lot since her first record. It's time American pop did the same.