A Very Different Action Figure Hits Shelves to Transform How Girls Think About Their Bodies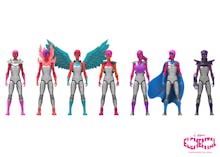 There's not much out there for young girls who want to play with something other than disproportionately-designed dolls, animated princesses or toys that aren't pink — or for young boys who want a bit of variety in their action role models.
Spotting this gap in the market, New Yorkers Dawn Nadeau and Julie Kerwin launched a line of action figures for girls called IAmElemental. "We set out to design a series of figures with healthier breast, waist and hip ratios; fierce, strong females worthy of an active, save-the-world storyline that fosters creativity in kids," the duo wrote on their Kickstarter page.
Unlike male superheroes, whose powers come from external sources such as spider bites, these female action figures find their powers from within. The first series will focus on courage — "because real heroes walk among us" — and will include dolls with superpowers that range from bravery and persistence to enthusiasm and honesty. And unlike many current female figurines, these brightly-colored action figures have a more realistic body shape, and are designed so that they can move their bodies properly and sit down without sexually splaying their legs. 
With three weeks still to go on their $35,000 crowdfunding campaign, the duo have already raised more than $92,000. The four-inch action figures should hit the market in December at less than $10 each, and will be followed later by larger dolls, graphic novels and comic books. 
The idea for IAmElemental came to Nadeau five years ago, when she couldn't find a female astronaut to go with the toy spaceship her space-obsessed 3-year-old daughter wanted. She surely wasn't the only one; the lack of gender diversity and strong female role models in children's toys (something that companies like Goldie Blox are trying to address) is such that Lego made headlines last year when it released a female scientist minifigure.
The problem isn't just the under-representation of positive, imitable women in children's toys, however; the female characters that do exist promote harmful ideals. This can lead to body image problems, affect social behavior and discourage young women from entering certain professions. Female action heroes and video game characters are overtly sexualized, while unwaveringly beautiful Disney princesses embody marriage-oriented values. Following ongoing backlash, Mattel has even launched The Barbie Project, a PR campaign aimed to discredit the ongoing controversy regarding the doll's unrealistic dimensions.
The IAmElemental action figures will be "more heroine than Hooters," according to the Kickstarter. But Nadeau and Kerwin are quick to point out in their Kickstarter that they "are not anti-doll, or anti-princess. Rather, we believe that these stories are not the only stories girls carry inside themselves."
As they say, every child — girls as well as boys — needs to play with power.
Image Credits (all): IAmElemental