8 Pictures Revealing the Little-Known World of Black Jews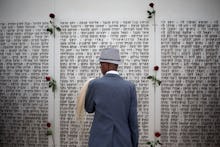 It's the year 2014, but some people still refuse to believe that multiple ethnic identities can coexist seamlessly for each individual and each family.
That's the frustration expressed by Sarah Gladstone in an essay for Ravishly, where she rails against a strange public fascination with how her black and Jewish identities could even possibly coexist. She said: 
I know that in a lot of ways I am a cultural and ethnic enigma. But in all honesty, it can get old. Like, real old, real fast.
Totally understandable, right? It's not exactly fun to be treated as though you're a sideshow when all you're trying to do is go about your daily life. Curiosity is one thing, but voyeurism is quite another.
The real story here shouldn't be "how can someone be black and Jewish?" but, rather that Jews of color, especially black Jews, are only recently starting to gain media visibility — both in the United States and abroad. And it's about time that we recognize that black Jews live all around us, even if we don't immediately recognize it.
Here's a short list of black Jewish individuals, and how they've been able to firmly assert the strength rooted in their blended cultural heritages.
Image Credit: Jayne Guberman via Flickr
Yavilah McCoy, who is pictured above celebrating the Sabbath with her family, founded the Ayecha Resource Organization in 2000, through which she helped increase awareness about racial diversity in the Jewish community. Although the organization is now defunct, McCoy still remains a strong voice for people of color within the Jewish community, speaking openly about her experiences as a daughter of two Jewish converts and as a black woman. 
"In the world of multiculturalism, being 'of color' includes all people who, whether visually or by nature of their geographic origin, are classified as nonwhite. When I try to superimpose that terminology onto the Jewish community, it gets complex," McCoy told the Jewish Daily Forward in 2009. "Until there is a consciousness that whiteness has been superimposed on Jewish identity, Jews won't really understand what it means to be a Jew of color."
Image Credit: Wikimedia
Hagit Yaso is an Ethiopian-Israeli singer who won the ninth season of Israel Idol in 2011. Her rise to celebrity came after a life lived amongst poverty and violence. Her parents left a poor, Ethiopian village and traveled through the desert for a whopping four months just to make it to Israel, where Yaso was eventually born in the city of Sderot — a common target of missiles from Hamas. Eventually, she joined the Israeli Defense Force and regularly practiced singing with her military band.
Image Credit:AP
The above photo shows Reuben Register, member of the Temple Beth'El congregation based in Philadelphia. Register is carrying the congregation's very first Torah from Israel, an honor that many start-up congregations often see as a sign of acceptance into the overall Jewish community. 
Rabbi Louise Elizabeth Dialey, z"l, a black Jewish woman who grew up in an Orthodox baptist household, founded the Temple Beth'El congregation in 1951. For the last 60 years, the congregation has been overwhelmingly black, and in recent years, it has broken racial barriers by holding joint Sabbath services with predominantly white synagogues.  
Image Credit: Flickr/JAFI Israel
The unnamed little girl was one of 142 Ethiopian immigrants who landed in Israel in October 2009. When Ethiopian immigrants arrive in Israel, they typically move into Jewish Agency Absorption Centers, which provide them temporary housing, food, Hebrew classes and cultural enrichment activities about Israel.
The immigrants are often called olim, the plural for oleh: immigrants who come to Israel for aliyah, which the Jewish Agency for Israel defines as "the arrival of Jews as individuals or groups, from exile to Diaspora to live ... in the Land of Israel."
Image Credit: Getty
Shyne is a Belizean rapper whose life took a rather unusual chain of events. In 1999, he shot a gun into a nightclub when he was chilling with Sean "Diddy" Combs and Jennifer Lopez, landing him in prison for nine years. Soon after his release in 2009, Shyne was deported. He moved to Jerusalem about a year later, with the experience ultimately prompting his conversion to Judaism. Now he wears payots, the curly sidelocks that Orthodox Jews don, and listens to audio files of Torah readings. He is not, however, a fan of Zionism, or so he told TIME Magazine. 
"An African in America who's pretty famous in African-American culture, you would think would be drawn to Islam, or maybe Christianity," he told TIME. "But I couldn't convert to something I'm not. Islam just didn't make sense to me. I come from the ultimate truth."
He added, "European Jews are not the only Jews."
Image Credit: Getty
Amar'e Stoudemire is the 6-foot-11 NBA player for the New York Knicks — and also black and Jewish, which came as a surprise to many fans four years ago in 2010, when he tweeted that he was going to Israel to learn about "who we R." But it was a surprise for him, too — that year, Stoudemire discovered that his mother was Jewish. 
His relationship with Israel became stronger over the years as he became a part owner of the Hapoel Jerusalem basketball club and made an appearance the Maccabiah Games (informally known as the "Jewish Olympics"). In 2013, he applied for Israeli citizenship.
Image Credit: Getty
Believe it or not, one of our favorite Parks and Recreation stars is indeed both black and Jewish. Rashida Jones' father is Grammy Award-winning producer Quincy Jones, who married her Jewish mother, Peggy Lipton.
In the past, Rashida has called her biracial Jewish identity a "double whammy." She strongly identified with black culture in her teenage years but had difficulties fitting into Harvard's black community during college. Around that time, she entered a social circle of Jewish friends and began to identify more with that part of herself. However, she still fully embraces her dual identities and still practices Judaism.
Lastly, although many of us have heard Drake's "The Motto,"  not many of us may know that the Canadian rapper is also black and Jewish. And like Jones, he also has a black father and Jewish mother. In fact, Drake went to a Jewish school as a child and often felt left out in a community where he was the only black kid. Years later, he had the chance to host Saturday Night Live.
Even though we may not immediately see or recognize black Jews in our community, it doesn't mean that their identities don't exist. In fact, they're all around us if we pay close enough attention.