Pop Music's Next Big Star Doesn't Use Twitter, But You Can Call Her Cell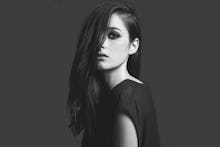 When was the last time you got a rising pop star's phone number?
It's actually pretty easy to get the digits of Jillian Banks, a singer-songwriter commonly known as BANKS. Just look at her Facebook page's "About" section: "I like making connections outside of a computer screen," BANKS writes. "Twitter, Facebook and Instagram have never really been my thing. So my manager is going to run the Social Media stuff. If you ever want to talk call me." Then she posts it: (323) 362-2658. It's the sort of thing she does all the time — lets her audience in close, then disappears from sight.
But who wouldn't want to talk to BANKS? Her haunting voice evokes the soul of Erykah Badu and the bedroom rasp of Lana Del Rey. Pair those vocals with ominous and brooding electronic bass beats and you get enchantingly mysterious songs like "Brain," "Warm Water" or last week's single "Drowning."
Her music is personal and mysterious in a way few artists accomplish in the digital age.
She picked up songwriting at age 15 to cope with her parents' divorce, just over 10 years ago. "[Music] was a very private thing for me because I used it as an outlet and emotional release," she said in an interview with Stereogum. "I kept it very close to myself and didn't tell too many people about it. […] It kind of all started because we put my song 'Before I Ever Met You' on a private SoundCloud link and it was sent to somebody in the U.K."
Now, almost two years later, BANKS has 24 tracks and remixes on the page. But while she's still private, her SoundCloud is no longer. In the week since its release, "Drowning" has garnered more than 500,000 plays.
BANKS has resisted putting anything into the world besides her music, but she has already been nationally recognized by Billboard as "An Artist to Watch" and by MTV as a stand-out 2014 act. Her upcoming summer tour is almost completely sold out. The L.A.-based singer hasn't even a put out full-length album yet.
BANKS has made value and intimacy out of scarcity. For her, as for all truly great artists, making music means speaking to fans on a human level. "I wanted to connect with people who connect to my music in a way that feels genuine and natural for me," she told Stereogum. Where most contemporary musicians take a mass approach to "connecting" with their growing fan base, BANKS is reluctant to jump on that bandwagon. She doesn't tweet. She doesn't post to Tumblr. Although she recently started handling her own Instagram account, she only does so because the texts and calls from fans have been a lot to keep up with.
You can hear her urge to connect at every level of her songwriting. She's always favored those kinds of influences — she has happy memories of first listening to the songs of Tracy Chapman in her mom's car. Her writing is an escape for herself as well as for her listeners as she mixes hauntingly personal lyrics with smoky, spare R&B beats by the likes of U.K. producers like SOHN, Lil Silva and Totally Extinct Enormous Dinosaurs.
The lyrics are even starker in their personal appeal. Just last week, in the handwritten lyrics released with "Drowning," she wrote: "From the girl who made you soup and tied your shoes when you were hurting / You are not deserving." The words ring personal, right down to their handwritten delivery.
In September, she'll face the biggest obstacle to her personal approach yet: the release of her much-anticipated debut album, Goddess. For now, though, BANKS will remain accessible in heavily shrouded videos like "Waiting Game," where you only catch glimpses of her face. She never fully gives herself away. "It's not like I had to think about it," she told Stereogum. "I just have a very clear idea of who I am." Soon a lot of other people will too. But until then, if you need BANKS, you can call her.