How Long Would It Take the Average American to Earn What Avicii Makes in a Year?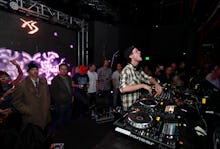 Earlier this week, the Lonely Island, music's biggest buffoons, released a song and video called "When Will the Bass Drop?" in which an EDM DJ named Davincii (a thinly-veiled mockery of EDM royalty Avicii) got onstage, pressed play on a laptop and then danced around while collecting all of the audience's money.
Around the same time, show promoter Degy Entertainment released a list of how much some of the biggest acts in music get paid to perform. Turns out Avicii earns $150-200K a show. When he talks about playing live, he describes it as follows: "I guess I think like deep inside, I know that it's like, it's a different kind of performing, it's not really. ... I'm not really doing much, you know, like technically it's not that hard."
So, deep down inside, he knows Andy Samberg isn't so far off. Multiply Avicii's rate by the 250-plus shows he performs a year, and he brings in $50 million annually. The average American earns, conservatively, an average of $49,465.38 a year. So, it would take him or her 1,010 years to make what Avicii does in one. One year of getting onstage, pressing play and dancing.
1,010 years.
Think about what was happening 1,010 years ago. It was the Dark Ages. Europeans were holed up in castles, hiding from the Muslim armies that were slowly picking apart the Byzantine Empire. Henry II had just been crowned Holy Roman Emperor 1,010 years and two weeks ago today. If he'd started working for the salary of an average American then, he'd be sitting pretty right now.
This is not to shame Avicii: He saw a niche in the growing EDM industry, and he sprung for it. In real life, Avicii has the most listened to song on Spotify with "Wake Me Up" — which so perfectly merges Mumford & Sons with EDM that it can only be described as sounding like money. He writes music that brings people joy and the actual composition and recording of that music is, indeed, hard work.
But when you have thousands spending $145 on a ticket to watch Avicii perform that music, and 'performing' it really means pressing play on a track that they could play for themselves, it might be time to go see a $30 soul show instead.