A 25-Year-Old Is Showing Up Every Other Director at Cannes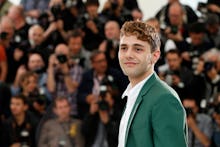 When 25-year-old filmmaker Xavier Dolan spoke to the press on Thursday, he had a powerful message, not for the reporters, but for his peers. When asked what it would mean to win this year's Palme d'Or, he replied: "It would just be an extraordinary message to the people my age and to my generation."
"Extraordinary" would be apt. Not only is Dolan competing against cinema legends like Jean-Luc Godard, Ken Loach and Mike Leigh, he'd be the youngest victor since Louis Malle won the prize in 1956, at 24.
In Dolan's world, youth isn't a hurdle. He didn't wait for permission to make a great movie, he just did it, telling stories about alienated young people and the complicated adults in their lives.
Critics from the Guardian, to the Hollywood Reporter to Variety have heaped praise on the Canadian director's fifth feature film, Mommy, putting him among the favorites to win. The Guardian's Peter Bradshaw even went as far as to say, "Prodigies don't get much more prodigious than this."
Dolan started young, a child actor who began racking up film credits at age 5. One of his roles included the voiceover for Stan in the French-Canadian version of South Park. When he turned his hand to writing and directing, he made I Killed My Mother, a semi-autobiographical feature film based on the difficult relationship with his own mother.
I Killed My Mother won three awards at Cannes' Directors' Fortnight in 2009 and was followed by critical successes Heartbeats, Tom at the Farm and a film about a transgender woman called Laurence Anyways.
Dolan's own parents separated when he was young, and while father figures are frequently absent from his movies, complicated relationships between mothers and sons take center stage. "I don't know why talking about the place of mothers in society — and the place of women, I imagine — is a theme and a territory that's so rich and inspiring for me," he said at the Cannes press conference.
Dolan seems to be making amends with his mother in the more sympathetic Mommy. The Quebec depicted in the film is gritty and working-class. The fictional S-14 law lets parents who can't cope with difficult teenagers ship them off to detention centers. One such teenager is the occasionally demonic and frequently manipulative Steve (Antoine-Olivier Pilon.) As the only child of the widowed Diane (Anne Dorval), their relationship is complicated to say the least.
Bradshaw of the Guardian describes Steve as "aggressively unstable with boundary issues, and an inability to stop swearing, fighting and touching women," but as always, it's complicated: "Yet when calm, he is intelligent and sweet-natured." After setting fire to the center's canteen, he gets sent home to live with his mother, which sets the scene for their complicated coexistence.  In this clip you can see Steve's manic energy and aggression as he navigates life at home.
For young filmmakers, Dolan will surely be a role model. He had conviction, ideas, and he executed.