Then-and-Now Photos of New York Landmarks Show What's Happened to the City's Art Scene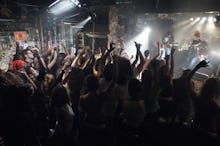 For the flocks of 20-somethings migrating to New York for the adventure, inspiration and opportunities, one refrain is heard almost constantly: "the city" is not what it used to be. In Manhattan, the artistic edge has dulled, previous generations lament, worn down by gentrification and mass markets. And maybe they're right.
As the rock clubs, the art hangouts, the poetry cafes and the jazz bars move out, and glass condos and frozen yogurt shops move in, it becomes harder to dismiss their claims. If the city's cultural hot spots are now a gentrified and sterilized shadow of their former selves, we 20-somethings are in part to blame. By landing here for a few years, living, loving and leaving, we help perpetuate the high rents and turnover rates that force locals out of their neighborhoods, and make the city less hospitable to the creative and underpaid. 
To celebrate New York City's artistic and cultural heritage, and to remind ourselves just what ground we're treading, here are nine iconic hot spots that at one point defined the city's creative energy. The comparison to their present-day selves shows the face of a changing city — not just visually but culturally.
We've lost some great places, but we might be creating some great ones, too. I'm not ready to throw in the towel on the city — not yet.
1. Birdland
1949-1965; 1978 Broadway. Image Credit: Getty Images
Yes, there is now a Birdland jazz club at 315 W. 44th St., but it is not the Birdland. It is an imitation — though not a cheap one.
From the 1920s to the 1960s, New York City was the cultural capital of jazz music. Jazz found its home in the city's clubs, from the Cotton Club in Harlem in the '20s to the famous row of jazz bars on 52nd Street and the original Birdland. 
Birdland, named after Charlie "Bird" Parker, was a big, beautiful, swanky, smoky place that specialized in bebop jazz. In addition to Parker, Dizzy Gillespie, Thelonious Monk and John Coltrane, among others, played at Birdland. Stars like Frank Sinatra and Ava Gardner also visited the establishment, cementing it as a music destination.
In 1965, the first Birdland closed due to bankruptcy. In 1985, it reopened and has since moved twice. It's a reasonably good venue, popular with tourists particularly, and still hosts some talented artists.
Image Credit: Google Street View
A gentleman's club now stands where Birdland used to call home.
2. CBGB
315 Bowery (at Bleeker Street); 1973-2006. Image Credit: Getty Images
Country, bluegrass and blues — these three genres inspired the name of the famous music venue at 315 Bowery. The epicenter of New York City's punk rock scene in the 1970s and '80s, CBGB hosted acts like The Ramones, Patti Smith and Iggy Pop.
Despite a tumultuous run CBGB was undeniably critical to punk rock and New York's music scene. Contemporary artists like The Strokes owe much to the artistic legacy of the musicians who made their names there.
In 2006, CBGB closed after rent disputes. Owner Hilly Kristal allegedly owed approximately $75,000 in back rent. The estate and the story of Kristal and CBGB is still surrounded in scandal and dispute.
Image Credit: Google Street View
Today, the former music haunt is a John Varvatos boutique. 
3. Max's Kansas City
1965-1974; 213 Park Ave. S. Image Credit: Blogspot
Founded in 1965 by Mickey Ruskin, Max's Kansas City was a music venue, restaurant and bar that was popular with the late '60s creatives. Max's was frequented by rockers and the jet set, as well as Andy Warhol and his Factory Girls in the early '70s. 
Artists like David Bowie, The Velvet Underground and Patti Smith played regularly, and the venue became critical to the development of glam and punk rock. Roy Lichtenstein and Robert Rauschenberg, both pioneers of modern visual art movements, also frequented the bar. It was nearly always open and became a well-known underground venue for those interested in experimental expression.
Image Credit: Google Street View
Today, a rotating cast of small restaurants fill the space. The occupant seems to change almost yearly. These days, a Bread & Butter takes the place of the legendary Max's, sandwiched between a CVS and the W Hotel.
4. Hotel Chelsea
22 W. 23rd St.; 1884-2011. Image Credit: Blogspot
The Hotel Chelsea is one of New York City's's most famous artistic haunts. Sometimes called the Chelsea Hotel or just the Chelsea, the building was an apartment cooperative that many of the city's most famous artists, writers and creatives called home. With 250 low-rent rooms and the kind of artistic environment a young creative can only hope for, it was a requisite touchstone for many of the past century's luminaries.
Charles Bukowski, Bob Dylan, Tom Waits, Frida Kahlo, Dee Dee Ramone, Patti Smith, Jean-Paul Sartre and Madonna — among many, many others — all lived or stayed at the Chelsea at one point. Andy Warhol's 1966 film, Chelsea Girls, was shot in the hotel. Nancy Spungen, the Sex Pistols' Sid Vicious' girlfriend, was stabbed and subsequently died there. Countless songs reference it. 
The Hotel still stands, but it is no longer an artists' den. The current owners are working on renovations and plan to reopen the building as one of five hotels in the Chelsea Hotels chain in 2015.
Image Credit: Google Street View 
5. San Remo Cafe
1950s; 93 MacDougal St., at the corner of Bleeker and MacDougal. Image Credit: Wordpress
Details about the San Remo Cafe are found primarily through reading the works of the Beat poets who made this place an institution. Allen Ginsberg, Jack Kerouac, William S. Burroughs and James Baldwin were regulars at the Remo. 
The bar in Kerouac's The Subterraneans, The Masque, was reportedly based on the San Remo Cafe. Kerouac wrote, "Hip without being slick, intelligent without being corny, they are intellectual as hell and know all about Pound without being pretentious or saying too much about it. They are very quiet, they are very Christlike."
Between the Remo, Kettle of Fish, White Horse Tavern (poet Dylan Thomas' favorite) and Minetta Tavern, this area of the Village was a gathering place for the Beat generation to think, write and create.
Image Credit: Google Street View
Today, the San Remo Cafe is an Italian restaurant, La Pasta Bistro Grill, on a block primarily run by NYU students and tourists.
6. 1520 Sedgwick Avenue
1520 Sedgwick Avenue; 1973-2007. Image Credit: Wordpress
In the fall of 1973, 1520 Sedgwick Avenue became one of the most important sites in New York City's cultural history.
At a party in the building's rec room, DJ Kool Herc made a completely new musical sound, the sound we now know as hip-hop. While the apartment building still looks much the same as it did in the 1970s, questions of its future swirl. 
Campbell, the son of Jamaican immigrants, was heavily influenced by both New York disco and the Jamaican dancehall tradition. Over the music, he spoke to his dancers, which he called b-boys and b-girls; the abbreviation standing for break boys and break girls, so named because they danced during the musical breaks.
In combining a heavy percussive beat with spoken word, Campbell revolutionized music and sowed the seeds for the contemporary hip-hop tradition.
Today, the building is undergoing renovations and local leaders continue to fight to get it recognized as a landmark, though the city has officially named it hip hop's birthplace.
7. Studio 54
1977-1981; 254 W. 54th St. Image Credit: Wordpress
Nothing can really be said about Studio 54 that hasn't been said before, but it has lived on in the collective memory like no scene before or since. Known for being the party palace for all sorts of people, Studio 54 was glitzy, glamorous and unpredictable. Though it only survived for four years, Studio 54 embodied the glamour and wildness of the 1970s in a bankrupt and riotous New York City.
The images (and there are plenty) that survive paint a picture of what looks to be the greatest party on the planet: Bianca Jagger on horseback. Liza Minnelli laughing with Warhol. Massive crowds dancing and drinking and raising hell. Every club today aspires toward the energy and thrill that Studio 54 radiated.
After it closed, the building passed through many hands. Today, it houses a downstairs restaurant and bar called Below 54 and is the home of Sirius XM's Studio 54 radio station.
Image Credit: Google Street View 
8. Limelight
1983-1990s; Avenue of the Americas and West 20th Street. Image Credit: Nightclub Hall of Fame
Culture in the '90s was defined by the rise in popularity of hip-hop and the simultaneous growth of outsider art. One of the places where the elite "outsiders" gathered was Limelight. This church-turned-nightclub became the unofficial headquarters of the Club Kids scene. 
Limelight was opened by legendary club owner Peter Gatien. It became a favorite hangout of the most famous Club Kids like James St. James and Michael Alig. All sorts of young creatives in the late '80s and early '90s found a place at Limelight, testing the boundaries of fashion and culture.
Image Credit: Google Street View 
Today, the Limelight is a marketplace for local and small-scale artisans to sell their goods.
9. Nell's
246 W. 14th St.; 1986-2004. Image Credit: Wordpress
In a beautiful 1994 New York Times article about Nell's, John Marchese writes, "If Nell's was once hot as a flame, it's heat came largely from people burning the candle at both ends. It couldn't continue forever."
Nell's was one-third owned and operated by Nell Campbell, who got her start as Columbia in The Rocky Horror Picture Show. Nell's was one of New York City's most famous nightclubs. It had room for 250 people, and everyone paid $5 to get in — even celebrities. It was one of those private, exclusive, comfortable places whose currency was cool.
Research revealed very few images of Nell's — in fact, none. This advertisement from Interview magazine shows Nell's clientele, though it's noticeably devoid of imagery of the club itself. 
After Nell's, 246 W. 14th became N.A., and most recently, The Darby, another popular club that has since closed. 
Image Credit: Google Street View 
10. 5 Pointz
45-46 Davis Street; Approx: 1993-2013. Image Credit: Getty Images 
Back in November, one of the worlds' premier street art sites was whitewashed overnight. This former factory in Long Island City, near (but not affiliated with) MoMA's P.S. 1 Contemporary Art Center, was known as a "graffiti Mecca" — 5Pointz, also known as 5Pointz Aerosol Art Center, attracted artists from around world, including many of the big names in the field.
5Pointz was managed by Jonathan "Meres" Cohen, with the approval of owner Jerry Wolkoff. The building was a major destination for followers of street artist and also housed below-market art studios and small enterprises.
However, Wolkoff recently decided to turn the building into condos. In an effort to rip the proverbial bandage off quickly, he decided to whitewash the building overnight with police protection. The public outcry was tremendous. 
Image Credit: Getty Images 
Walkoff says that the interior of the new condos will have white walls for artists to paint to preserve some of the history of 5Pointz. In response, some artists have vowed to boycott the area — and never to paint there again.