The Pope Just Made a Brilliant Political Move That Obama Failed to Accomplish a Month Ago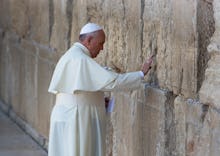 The news: Pope Francis announced a surprising peace initiative on Sunday during his three-day visit to Israel and Palestine. The pope asked officials from both governments to join him at the Vatican for reflection, prayer, and peace talks, and it appears that Palestinian Authority leader Mahmoud Abbas and Israeli President Shimon Peres will both join Francis in early — a development that is nothing short of a diplomatic coup.
Francis also announced "there is simply no other way" than a two-state solution to end the Israeli-Palestinian conflict and reach peace in the region. He urged officials "to forge a peace which rests on the acknowledgment by all of the right of two states to exist and to live in peace and security within internationally recognized borders."
Earlier in the weekend, the pope made time to visit the controversial wall in Bethlehem separating Israel and the West Bank at the request of Abbas. He placed his hand against it and prayed below graffiti, calling for a free Palestine and the end of Israeli occupation. A Vatican spokesman acknowledged that some "had difficulty understanding his act at the wall yesterday."
So what did Francis actually just achieve? One month ago, President Obama's attempt to drive Israelis and Palestinians to talks fell flat, with Palestinian demands rejected by Israeli Prime Minister Benjamin Netanyahu. The Israeli government declined to hand over prisoners whose release was being demanded by the Palestinians, leading Abbas to submit applications to 15 international treaties and sign a deal that included power-sharing arrangements with extremist group Hamas. In other words, like always, the potential deal was scuttled.
"The minimal set of conditions that any Israeli government would need cannot be met by the Palestinians," said Netanyahu. "No matter what the spin is about blaming Israel, do we actually expect Abbas, who seems to be embracing Hamas, to give a negotiated deal? In all likelihood, no. I hope he does, but I'm not sure he's going to."
After decades with no progress and the continual collapse of talks, the pope is clearly hoping that the invitation to the Vatican will trigger a new dialogue fostered by religious understanding and a less-politicized environment. A senior Vatican official calls it a papal initiative to "convert hate into love."
The pope has indeed been trying to win both sides over, making a focused effort to regain his trust with Israelis after visiting the Bethlehem wall. Bar Ilan University Christian-Jewish relations expert Jeffrey Woolf told TIME Magazine that "Every single gesture on this trip has some significance. And we, because we live in an Internet age which cultivates superficial thought, have no idea how powerful these can be. But in the Middle East it certainly [resonates] very powerfully."
"All these actions are very loaded. He crammed a lot of meaning into a few hours."
Can the pope pull it off? Almost certainly not. It seems doubtful that Francis' faith-based inititative will be significantly more successful than previous attempts to broker a deal, no matter how adulatory TIME magazine gets about it.
For all the peaceful overtures, the pope's supposedly pure message of love has already turned into a political football. Israeli authorities are accusing the PA of using "the pope as a political tool" for his visit to the wall, meaning that they're already distrustful of his plans for them in Rome. And if either side balks, the historic visit to Rome will be nothing other than a glorified photo op.