America's Most Famous Whistleblower Is Trying to Come Back to the U.S.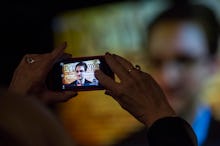 The news: NSA whistleblower Edward Snowden turned heads when he decided to seek asylum in Russia — and now he might be rethinking that choice.
According to Snowden's lawyer in Germany, Wolfgang Kaleck, there are ongoing negotiations with the U.S. government for Snowden to return to America. "Those who know the case are aware that an amicable agreement with the U.S. authorities will be most reasonable," Kaleck told Der Spiegel on Sunday. "One could hope that a democratic U.S. government paves the way back to him."
That might come as a surprise to anyone who's paid attention to U.S. authorities' rhetoric against Snowden, but not to those who have been observing Snowden's growing disenchantment with his new home.
Image Credit: AP
An unlikely union: Given Russia's track record with shutting down independent media and surveilling citizens, it was an odd choice for Snowden to seek asylum there, leading to persistent rumors that he was in fact an undercover Russian spy.
But Snowden's choice may have simply been a matter of logistics: He had a layover in Moscow to get to Ecuador, which was open to offering him asylum. Snowden was getting hounded by the international press, he was having problems making his connecting flight and Russia just happened to not have an extradition treaty with the U.S. With his one-year renewable visa, Snowden could stay out of American hands, and Russia gained a human bargaining chip in the process.
However, this hastily made union has been showing cracks. Snowden publicly questioned Russian President Vladimir Putin on Russia's domestic spying record. There have also been ongoing rumors that Snowden is being held as prisoner, or that Russian authorities would never allow him to leave due to the fear that he might expose state secrets.
Why would the U.S. want Snowden back? Appearances matter in diplomacy, and in this case, the U.S. would rather put Snowden away with a light sentence rather than have him run around the world.
Snowden has become somewhat of an icon in the international community, and it's possible that if he decides to leave Russia, other countries might step in with an offer. Members of the Scottish parliament have called for granting asylum to Snowden, while officials in Bolivia, Nicaragua and Venezuela have made similar overtures in the past. The German Bundestag is also considering inviting Snowden to come and testify before its NSA investigation committee.
America's top brass may consider Snowden "a traitor," and while the White House may frown upon allies who harbor the asylum-seeker, what they really want is to see Snowden behind bars — even if it's for a shorter time. And if Snowden is indeed looking for a new (or old) home, both sides might be amenable to an agreement after all.