14 Beautiful Photos Show a Side to Pakistan You'll Never See in the Media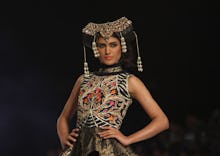 "If Pakistan were a person, he (and it would have to be a he) would have to be completely humorless, paranoid, insecure, eager to take offense, and suffering from self-righteousness, self-pity, and self-hatred," described Christopher Hitchens in Vanity Fair back in 2011.
Hitchens also called Pakistan "one of the vilest and most dangerous regions on Earth."
Search for Pakistan in the news this week and you'll discover a host of negative headlines about a tragic honor killing, the country's battle with polio and a meeting between the country's leader and India's new prime minister.
These are the headlines that help drive the image of the country in the West as a far-off and troubled land filled with misogyny, disaster and corruption. It's no surprise that people living in the United States have such a negative perception of Pakistan. And, thanks to the United States-led "war on terror" and drone attacks, the perception of the United States in Pakistan is also negative.
But while the media's portrayal of Pakistan reduces the country's 179.2 million people to broad-brush stereotypes, the reality is quite different. Here are images that show a side to Pakistan that goes beyond the headlines:
1. It has a growing fashion industry.
Since 2009, Pakistan has hosted dozens of fashion weeks offering the world a rare glimpse into a growing industry and proving the conservative country's norms aren't as rigid as portrayed in the media.
While Pakistani designers lament that there is still a long way to go before their names are recognized on global fashion racks, the models are enjoying the freedom the world of glamour has given them.
"People's mindsets are changing," said model Saria Ansari who appeared in the Bina Sultan collection in 2012.
Pakistan also has one of the largest textile industries in the world, shipping about $13.8 billion worth of textiles mostly to the United States and Europe.
2. It has cultural festivals.
Pakistani artist Habib-ur-Rehman paints traditional art on a vase at his stall during a Punjab Culture Festival in Islamabad, Pakistan that showcases the rich culture, arts, crafts, folk music and traditions of the most populous province of the country.
3. It has some of the last untouched lands in the world.
Located in the Gilgit-Baltistan province, the Deosai plateau is the second highest plateau in the world and is considered one of the most beautiful regions in Pakistan.
4. It has a growing, ambitious young population.
Pakistani students carve wooden statues in the National College of Arts in Lahore, Pakistan.
5. It celebrates dance, music and cultural heritage.
Pakistani classical dancers perform in Karachi, Pakistan to celebrate the International Dance Day on April 29, 2014.
6. It has gorgeous national monuments.
Located in Islamabad, the petal-shaped granite Pakistan Monument represents the culture, history and unity of the provinces of Pakistan. The four large petals represent the four provinces of Pakistan, including Punjab, Sindh, Khyber Pakhtunkhwa and Balochistan. The three smaller petals represent Azad Jammu, Gilgit-Baltistan and Kashmir and FATA.
7. It has monuments representing thousands of years of rich history.
Locally referred to as Shahi Qila, the Lahore Fort manifests the rich traditions of the Mughal empire in Pakistan. Located in the northwestern corner of the Walled City of Lahore, the fort contains marble palaces and forts decorated with intricate mosaics and large expanses of flowing water. The fort was inscribed as a UNESCO World Heritage Site together with the Shalimar Gardens located 7 kilometers away.
8. It has a rich, ancient history.
Mohenjo-daro, or "Mound of the Dead" in Sindhi, is an ancient Indus Valley civilization city that highlights the ancient history and culture of Pakistan. Excavations that began in the baked-brick city in the 1920s revealed a watertight pool called the Great Bath, wells throughout the city and an organized drainage system.
9. Its beauty draws in famous visitors.
World renowned B-boys Ali Ramdani, aka Lilou, and Alex José Gomes Eduardo, aka Pelezinho, show off their dance skills in front of the Jahangir Kothari Parade to the beat of dhols.
"I was very excited to come to Pakistan, irrespective of how the media portrays the country," said Lilou. "It is one of the most original countries I have visited in my life."
10. It has beautiful people.
Just around the corner from Islamabad's Koshar Market, Master Ayub has been running a school for poor children returning home from their jobs for free.
"Everyone who is already educated must help educate illiterate people in their homes, in their towns, in their cities and other places where they are," said Ayub. "If they teach one word every day, then [you will] see, little by little, how we can overcome the education gap in our country."
Although he isn't a trained teacher, he voluntarily teaches approximately 240 students enrolled in his school. Many of the fathers of the children he teaches today were his former students as well.
11. Its athletes gives back to the community.
Established in 1996, the Karachi United Football Club works to support youth, sportsmanship and football in Pakistan's slums.
12. Its filmmakers have earned praise around the world.
Journalist and documentary filmmaker Sharmeen Obaid-Chinoy became the first Pakistani woman to win an Oscar in 2012 for her documentary Saving Face, which highlights the stories of courage, determination and resilience of acid attack victims in Pakistan. She was also featured on TIME's 100 Most Influential People list for 2012.
13. It has creative service projects.
After the controversial anti-Islam film Innocence of Victims sparked violent protests and riots in Lahore, Karachi and Islamabad, a group of approximately 100 students, young professionals and civil servants took part in "Project Cleanup for Peace" to clean up the mess and fix as much as they could.
"We wanted to tell the people that the manner in which the protests were held were wrong — we are equally hurt by the film (Innocence of Muslims) but instead of violent protests we decided to clean up the streets," said 21-year-old Ali Ayyaz.
14. It is represented by both men and women at international sporting events.
Pakistan players Sana Mir, right, and Javieria Wadood run toward their teammates as they celebrate their win over Bangladesh to win the gold medal in women's cricket at the 16th Asian Games in Guanghzou, China in 2010.
Although the Pakistani women's cricket team isn't as well-known or respected as their male counterparts, at the Asian Games, the women secured their country's first gold medal in eight years — a milestone that many supporters said highlighted the need for more education and opportunities in sports for women in Muslim countries.