A Tiny Spanish Soccer Team's Real-Life Fairy Tale Could Be Over Before It Begins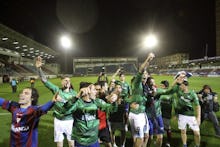 With a shoestring budget and an average attendance of about 3,000, the tiny Basque soccer club SD Eibar might have seemed too small to survive in the Segunda División, the second-highest level in the Spanish football league system. It turns out Eibar was actually too good, securing promotion on Sunday to La Liga next season for the first time in the club's 74-year history, where it will compete alongside the likes of global superpowers Real Madrid, Barcelona and Atlético Madrid.
But Eibar hasn't just been too successful on the pitch: It has also proven too responsible on the balance sheet, and that might prove to be its downfall.
At a time when numerous Spanish clubs are struggling to recover from the crash of the national economy and are laden with debt from overspending on players, Eibar could find its storybook elevation thwarted for doing the opposite. That's because Spanish law dictates that teams in the top two leagues must have capital that equals at least 25% of the average expenses of the clubs in the second division (not counting the two teams on each extreme of the spectrum). Rather than a romantic promotion to Spain's top flight, Eibar could find itself sent down to the third division — a counterintuitive penalty for its rare fiscal responsibility. 
Image Credit: Twitter
Eibar's capital, 422,253 euros, isn't even close to the current required minimum of about 2.1 million euros. And so now, with 71 days left before the deadline, Eibar has turned to its fans, hoping they can help raise more than 1.7 million euros to make up the difference. If they don't reach the required amount, "Los Armeros" (The Gunmen) will not only be barred from Spain's top flight, they will be relegated back to Segunda División B, the third tier. Of course, as silly as it sounds, if Eibar had operated with an unsustainable budget, or if their opponents were more cautious financially, this wouldn't be an issue.
Unable to challenge the law, Eibar has issued 34,486 shares at 50 euros each through the club's website hoping to raise the money. Social media has proved to be a savior for soccer clubs in the past (Spain's Real Oviedo enacted a similar campaign in 2012 to help save the club from bankruptcy, with more than 20,000 people joining the cause), and Eibar has so far raised 42% of its necessary funding through the campaign. Fresh off winning the Champions League with Real Madrid on Saturday, former Eibar loanee Xabi Alonso has publicly backed Eibar's cause, tweeting about the campaign to his more than seven million followers.
None of this is coming as a surprise to Eibar. Its fans have known about their club's tenuous position for months, but the looming uncertainty did not seem to put a damper on the fans' celebrations this weekend.
"My dream has become reality," one fan said after Portuguese midfielder Jota Peleteiro scored the lone goal in Eibar's 1-0 win over Alaves on Sunday, ensuring a top-two finish in the Segunda División with two games still remaining.
Image Credit: Twitter
If Eibar is able to raise the requisite funds, its 5,200-capacity stadium 30 miles east of Bilbao, in the Basque country of northern Spain, would play host to some of the richest and most storied clubs in world soccer. And Eibar's supporters, in turn, would get to sing their songs in the biggest stadiums in the country.
Two years ago, that possibility would have surely been deemed too fanciful by even the most optimistic Eibar fan. At the time, Los Armeros were starting their fourth consecutive season in the third tier of Spanish soccer. After surviving a 16-team playoff to secure promotion in 2013, and now, a year later once again earning the right to move up the ladder (no playoff necessary this time), Eibar has proven it can beat the odds.
But now, for any of this to matter, it will have to do it again.